Benchmarks: Audi Culver—When your woodworking community grows with you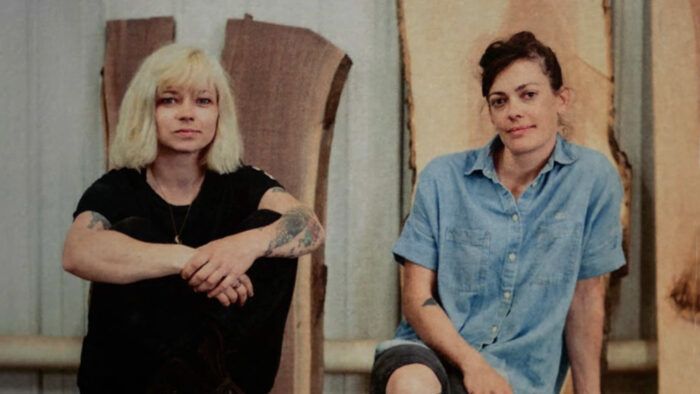 Ivy Siosi and I started SIOSI Design in 2012 with a goal to make art and a living. We found a space for $300 per month, bought basic equipment, and set up shop. Both with backgrounds in fine art, Ivy and I had big ideas and a full commitment to woodworking, but zero experience in the nitty gritty of setting up a woodshop. In our research, Fine Woodworking magazine was an important resource offering forums on everything from which machines to buy to ideal shop orientation. Through the years, we've consulted the magazine archives for hot debates on dust collection, tips for perfect finish, and the ever-growing mass of woodworking trivia.
In 2018, Nancy Hiller encouraged us to submit a proposal to Fine Woodworking; she thought our inlay technique was worth sharing. Fine Woodworking thought so, too! They chose us, two queer women, trying our damnedest to make a living in a male-dominated field. And now in 2022, I see more women on the pages, in their Instagram feed, and hosting webinars. The field is becoming more diverse and Fine Woodworking is important in continuing that trajectory.
I'm a woodworking lifer. For me, the commitment is all-consuming, and Fine Woodworking magazine has grown with me through years of making things for a living. In the beginning, Fine Woodworking was like having a thousand grandpas on hand to ask any woodworking question. Now that our shop is humming, and our business is established, I depend on the magazine to show me new things like airbrushing furniture with Aspen Golann, how to make shrink pots with Danielle Rose Byrd, or Indigo dying with Heidi Martin. Fine Woodworking magazine is a resource, but more importantly a community of people helping each other be better people and better makers.

Audi Culver
​
Nancy Hiller will tell you, when you're talking about having a passion for your work, it pays to know exactly what "passion" means.

Nancy Hiller

This elegant design delivers a strong, stable structure and a powerful grip.

Tim Manney

Replay! Join furniture maker Aspen Golann for a look at her painting process, including her techniques for airbrushing in details.

Aspen Golann

There's a simple, adaptable system hidden in almost every table.

Matthew Kenney

Explore the magic of wet-dry joinery by making shrink pots with Maine woodworker Danielle Rose Byrd.

Danielle Rose Byrd