Benchmarks: Brian Newell—When youthful zeal wasn't enough anymore, expert advice came in handy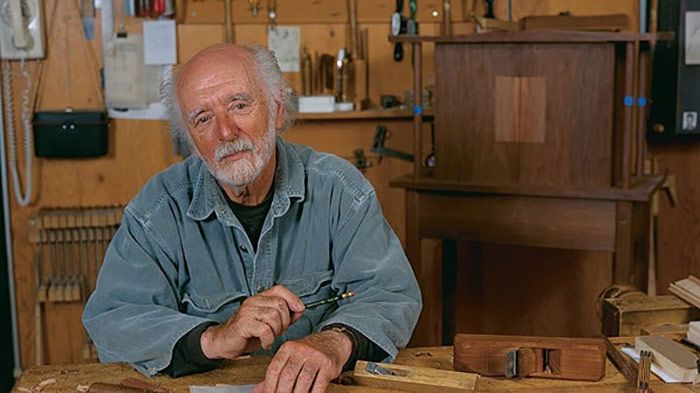 As a youngster interested in woodworking, I was guided by two principles: (1) I wanted to make the world's greatest furniture (dovetailed-carved-inlaid-ebony), and (2) I wasn't about to let anybody tell me how to do it. Even if I had known that Fine Woodworking existed, I would still have isolated myself in our Midwest basement with pictures of Grinling Gibbons's most elaborate carvings, a set of Swiss-made gouges, chunks of oak firewood, utter ignorance, and insane determination. I figured that in a few months I'd have the carving down and could attack dovetails.
In high school my delusion was standing firm. Somehow as a senior I convinced the administration to allow me seven hours of woodshop and one of Shakespeare. The entire collection of Fine Woodworking sat on a shelf in the woodshop, but I only used it for the ads, tools, exotic wood, and unorthodox glue. One fateful day, perusing the ads, I came across one for the College of the Redwoods, James Krenov's school in Fort Bragg, Calif. I had purchased A Cabinetmaker's Notebook, by chance, and was more than impressed with Krenov's arrogantly seditious approach to the craft. He was my favorite rebel and I loved to look at his work.
A year at the Krenov school led directly to a job cleaning on construction sites (the contractor was also a Krenov fan and was excited by my alumnus status). Thus began the long disillusionment. Yes, I had made some progress in learning the craft, but it dawned on me that an expanded world view could save me grief and perhaps, even bring the joy of community. I began to peruse Fine Woodworking for more than just dust-collector ads, but for things such as finishing techniques and tool reviews.
While I really appreciate the magazine's crystal-clear how-to graphics, concise prose, and excellent photography, my favorite part has always been the back page, especially under Jon Binzen. It always amazes me that he can find such diverse talent worldwide. The work on display there humbles and inspires me, giving me incentive to keep making things even when my insane determination has mellowed to puzzling persistence.
Fine Woodworking rocks!


Brian Newell
​
These must do more than follow a straightedge.

Steve Latta 

Wood designed this sideboard with end-grain drawer fronts to highlight the part of the beam that first caught their attention.

Jonathan Binzen

See stunning examples of work by a self-taught woodcarver who's the modern-day equal of 17th Century master Grinling Gibbons.

Jonathan Binzen

A fascinating interview with the icon, looking back at his life from childhood on through to his professional life.

Jonathan Binzen

Many perform well, but the winner is the least expensive.

Chris A. Minick

Hurwitz designed this cabinet, made of pau amarillo with kumiko-style grillwork.

Jonathan Binzen
​