Make and Fit a Dovetailed Drawer
A recipe for drawers that look great and work flawlessly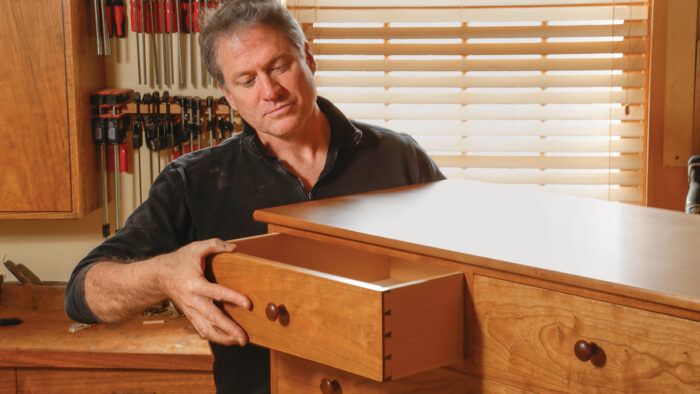 Synopsis: Including a solid-wood component in dovetailed softwood drawers is a traditional option, and one that Tom McLaughlin uses. Because the softwood sides can dish out from use, he laminates maple onto the bottom of his, and pairs them with maple runners. Here he takes you through the process of drawer construction, from sizing the parts properly to using spacers for perfect alignment.
---
Drawers will add flavor to any project. On top of the design opportunities they open up, they add a large degree of function. The last bit of spice comes in building and fitting them. A drawer that operates poorly or looks sloppy will leave a bitter taste in your mouth, whereas an attractive, smooth operator is satisfying.  
Dovetailed drawers with solid-wood components are the traditional option, and the one I typically turn to for furniture. From cutting the dovetails to planing the sides to installing the bottom, I'll take you through the steps necessary to make drawers that look and work just right.
Watch Tom McLaughlin build this Shaker
chest of drawers in our Masterclass series.
Strategic sizing
The goals for a drawer are to have even reveals around the front and a smooth ride in and out of the case all year long. This result starts when sizing the front, back, and sides. 
I start by ripping the drawer front and sides to width so that there's a gap of approximately 1⁄32 in. Later, you'll plane this as necessary to account for seasonal movement. The back's width is determined after you run the grooves for the drawer bottom.
The sides are mostly pine, a traditional secondary wood because of its light weight and stability. But, it's also quite soft. So before ripping the sides to width I laminate on a strip of maple, a hard-wearing wood. These two woods give me the best of both worlds. I use maple runners as well.  
The length of the front and back should be sized for a gentle friction fit in the drawer opening. This fit leaves you room for cleanup and refinement after dovetailing, since I recommend cutting the joints so that the pins are a little proud. It's easier to level them to the sides than vice versa. 
Dovetails and grooves
To keep the drawer front uninterrupted, I use half-blind dovetails to join the front to the sides. At the back, I prefer through-dovetails because they're easier to cut, although there I need to be mindful of the drawer bottom.
Start by cutting the half-blinds, locating the bottom tail so it will hide the groove for the drawer bottom. Then run the grooves. 
From Fine Woodworking #294
To view the entire article, please click the View PDF button below.
---
View PDF