Two tea boxes, two trailblazers, and one happy woodworker
When Leonard Butler decided to use a viral image on his tea boxes, he little dreamed how far those boxes would go.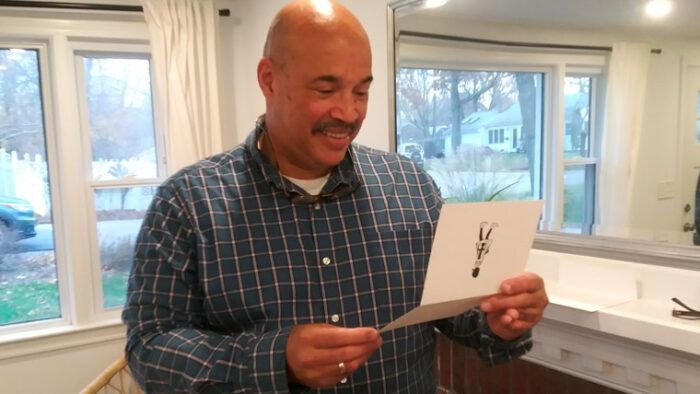 First, a history lesson for those who may not know or who (if you're around my age) may have forgotten. In 1955, Rosa Parks, an African-American woman, refused to give up her bus seat to a white man, a move that served as one of the sparks for the civil rights movement in the United States. In 1960, Ruby Bridges, at 6 years of age, was the first black child to attend an all-white school. She was escorted into school by federal marshals.
These milestones in history came back to me when I first saw the image of Kamala Harris, with Ruby Bridges as her shadow, that went viral just after she was elected vice president. I immediately wanted to do something with it in wood. Ultimately I decided to scrollsaw the image and place it on a tea box.
At some point while I was working on it, I got the "crazy" idea to make two tea boxes and send them to Vice President Harris and Ruby Bridges, respectively.  When I went to retrieve the image online, I saw a quote that read: "Ruby walked so Kamala could run."  I saw another image that included Rosa Parks and a quote that read: "Rosa sat and Ruby walked so Kamala could run." That made me want to include Rosa Parks on the box, but I did not wish to detract from the original image.  So I added Rosa Parks to the inside of the lid.
As all of these women are of African-American ancestry, I incorporated species of wood indigenous to Africa.  The images of all three women are scrollsawn from wenge and the grid inside the box is from African mahogany.
Having completed the boxes, it was time to get them to the recipients.  My thinking was, if I can get one to Ruby Bridges first, she might be able to assist in getting the other to Vice President Harris.  I Googled "address for Ruby Bridges" and found a PO Box in New Orleans.  I packed up the box, included a short note of explanation, and sent it off via the US Postal Service with tracking information.  It sat in the post office for about three weeks.  I called the post office and was informed that the PO box was inactive and my package would be returned.
When I got the package back, all four corners of the shipping box had been busted open.  It was barely intact.  Fortunately, the bubble wrap had protected the tea box.  It had a small smudge in one corner that I easily repaired.  The search for a good address continued but, in the meantime, I decided to send the other tea box to VP Harris.  I sent it to her office at the White House, but this time I used FedEx!  Several days later, tracking showed it had been signed for.  Three weeks after that, I was delighted to retrieve from my mailbox a large manila envelope with a return address of "Office of the Vice President."  Inside was a small note card with the Vice Presidential seal, thanking me for the gift.
It took months for me to find a usable address for Ruby Bridges, but on October 29 I mailed the gift again…also via FedEx. And on October 31, tracking showed it had been signed for by R Bridges!  I breathed a sigh of relief.
Two weeks later I received a note of thanks from Ruby Bridges!  This brought to fruition my "crazy" idea of months ago.  The note from Bridges is far more personal, as it is handwritten and expresses genuine sentiments.
I have been a woodworker for more than 40 years and I am quite passionate about it.  It feels awesome to know that little ol' me made and presented a handcrafted gift to these trailblazing women!  I mean, the current vice president of the United States has a gift I made for her in my shop!  I am ecstatic!  And … I have my next woodworking project—a frame for the notes I received.
---