From the Bench: Making history
When Leonard Butler set out to re-create the Jefferson lap desk, he didn't realize he'd be opening a window into history for aspiring woodworkers of all ages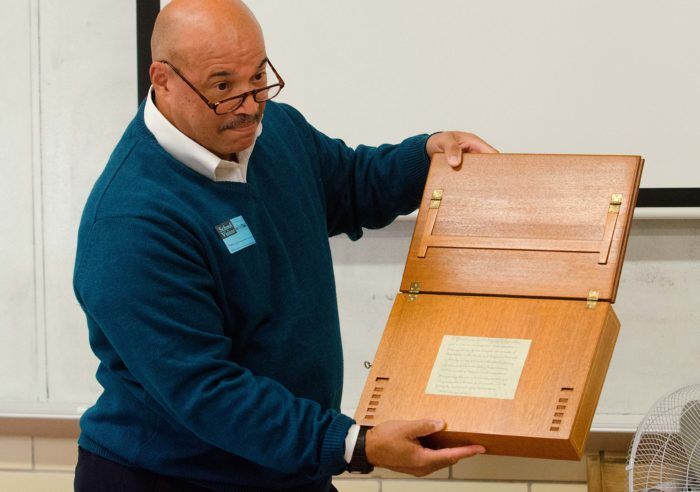 Every once in a while, a project from Fine Woodworking takes a reader on a journey that they didn't quite expect. That's what happened to me when I got involved with the Thomas Jefferson lap desk. My reproduction of this desk took me through a discovery of American history as I set out on a personal quest to find a worthy home for my piece.
The lap desk article, written by Lon Schleining, appeared in the October 2000 issue ("Thomas Jefferson's Writing Desk," FWW #144). A friend and fellow woodworker decided to build the desk in 2018 using Schleining's drawings and, during the project, contacted me almost daily to ask for my opinion, advice, or interpretation of one or another instruction from the article. Each time he contacted me, I would refer to my copy of the magazine and assist as best I could. And each time I did, my interest in the project grew.
The original desk had quite a story. Jefferson designed it and had it built and it was his companion for 50 years. After drafting the Declaration of Independence on it, Jefferson used the desk throughout his years in France, his time as secretary of state, as vice president, and later as president. In 1825 he gave it to his granddaughter as a wedding gift. After his grandson-in-law, Joseph Coolidge Jr., died in 1879, his heirs donated the desk to the U.S. government. Today, it's part of the collection of the Smithsonian's National Museum of American History.
It's no surprise that after participating in my friend's build and researching the desk, I decided to make one of my own. The build was relatively straightforward but instead of using a plywood core with mahogany veneer, I went back to the original desk as a model and used solid mahogany throughout. I felt a replica of such a significant piece of history cried out to be as identical to the original as possible. I had hoped to complete the desk on or before July 4, 2018. Taking about 35 hours over the course of 10 weeks, I finished the desk on July 6, two days late.
I am proud of my replica desk and consider it to be a fine facsimile of the original. The delicacy of the project—thin stock, tiny hinges, tiny screws, tiny dovetails—made the project challenging at times. And once I had successfully built it, I thought about what to do with my small piece of history. My first thought was to donate it to my home state of Rhode Island. Working with the secretary of state's office, I brought in the desk so that staff members at the state capitol could see it. They were happy to take the desk, but explained that it could not be on display all the time and when it wasn't, it would be locked away in a vault. The thought of my work locked in a vault didn't sit well, so I pondered other places I might donate it.
What about education? I contacted my high school alma mater and offered to loan the desk to them for a month. The head of the history department invited me to present the desk and share what I had learned about it with a few classes. So I did that, and a lot of students got a lesson in Jefferson's ingenuity. I then decided to offer it to my college alma mater, Rhode Island College. I contacted the college's history department chair, who referred me to the Dean. There was a lot of back and forth communication, but not much progress. So when the high school asked me to bring back the desk for more classes to see it, I was happy to comply. This time, a photographer took photos and when the East Providence Post newspaper came out, there I was on the front page, holding up my desk in front of the class!
More presentations ensued, one to the Rhode Island Woodworkers' Guild, one at a senior center, and several at other schools. My desk was getting quite famous! I tried to work out a deal to donate it to the college again, but my efforts didn't meet with success.
One interesting fact about this desk that I learned during my research was that there was a confusing period after the original desk was donated to the U.S. government, specifically the Department of the Treasury (the Smithsonian, where it is now, didn't exist yet). Someone at Treasury had about 20 really good copies of the desk built by their cabinetmakers. These replicas started popping up all over the place and some even had facsimiles of Jefferson's handwritten documents attached to them. Eventually, it got so confusing, with all different people claiming to have the original, that a congressional inquiry was launched to get to the bottom of the story of the replicas. It fascinates me to this day that this piece has had such a wild and interesting history.
My own piece was starting to have a rather involved journey of its own. Was I ever going to find it a permanent home? After all these different attempts to give it to a school or government entity in Rhode Island, I had a brainstorm. What about North Bennet Street School? As most of you know, NBSS is a premier woodworking school in Boston, and period furniture is revered there. About 10 years back I had organized a meeting of a number of New England woodworkers and NBSS hosted the meeting. There I had met Claire Fruitman, who was now provost of the school. When I contacted her and offered the desk for the school's use, she accepted.
At last my replica had found a worthy home. In April 2019, I delivered the desk to NBSS, where it is available for student instruction and reference in the Cabinet and Furniture Making Department.
Leonard Butler is a longtime woodworker and resident of Rhode Island. He retired 10 years ago after a career in the Social Security Administration.
---