Benchmarks: Rodney Diaz—A designer, an interest, a hobby, a career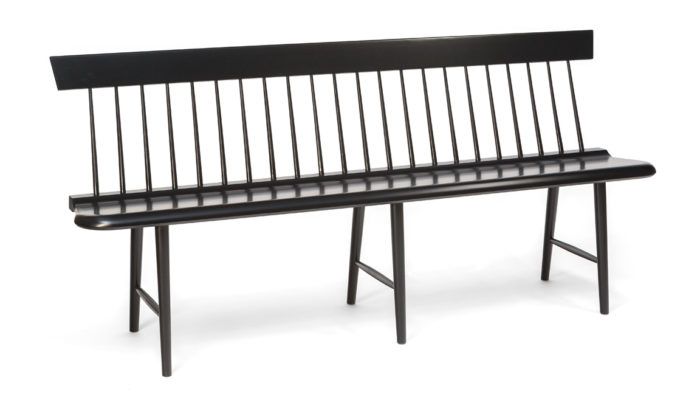 While finishing up a BA in graphic design in the early 1990s, I spent a couple of afternoons each week assisting my brother-in-law in his fledgling cabinet shop, where I was introduced to a few basic woodworking power tools and machines. Safety and efficiency were always paramount, and the work was very much production-oriented, without the allure or romance of furniture design, hand-cut joinery, or fine finishing. It wasn't until I thumbed through the Winter 1994 issue of Home Furniture and saw an article on a custom-designed stereo cabinet by a guy named Chris Becksvoort that I took a serious interest in woodworking. This painted cabinet had a classic but unadorned contemporary look to it (I'd never heard of the Shakers at this point). I liked how it was sized to fit the owner's stereo equipment, with drawers sized to hold a CD collection. I wanted one of these! But what really struck me was the cabinet's frame-and-panel back, more beautiful to me than the front, with the wood's natural beauty and the joinery's clean lines on display for no one to see as it faced the wall. I was smitten by the maker's devotion to such craftsmanship on a part of the cabinet that would rarely, if ever, be noticed.
Eight years later, I was hired as an assistant art director with Fine Woodworking. Talk about a dream job. The next four years felt like I was enrolled in the most intensive furniture-making program you can imagine but being paid to go to woodworking school. And oh, by the way, I helped Mike P. and the rest of the editorial team produce a great magazine. These days I've expanded my duties with Taunton Press as the Group Creative Director for Taunton and the Creative Director for Fine Homebuilding, but I am just as passionate about woodworking as I was when I first saw that article in Home Furniture (I still have that issue). Here are a few of my favorites from Fine Woodworking.
During my tenure at Fine Woodworking I laid out "A User's Guide to Waterstones" by David Charlesworth. I attended a Charlesworth sharpening workshop at Lie-Nielsen in advance of laying out this article. I didn't fully appreciate the importance of a sharp edge until I watched a shaving literally float out the mouth of his #5 1/2 into the air, like a feather, as he demonstrated a freshly honed blade. It was a religious experience. "An Antique Finish for Tiger Maple," is so stunning and so simple once you learn the steps. I took "Turn Pulls Without a Lathe" a step further, buying turned knobs and refining them on the drill press with the methods described in the article. "Shaker Noir" by Christian Becksvoort—I'm going to build this bench one day! Until then, I keep this article under my pillow. And then there is "The Gift" by Jonathan Binzen, when working wood transcends woodworking. Or vice versa…

Rodney Diaz
​
Shape and style spring from intended use and furniture around it.

Christian Becksvoort 

There's no faster or more economical way to achieve razor-sharp tools.

David Charlesworth

Four hand-applied steps give your piece a period look.

Lonnie Bird

Create custom knobs using your drill press.

Christian Becksvoort

Furniture maker Christian Becksvoort presents a straightforward way to build a stunning, classic Shaker settee.

Christian Becksvoort

Carved birds are a currency of friendship and karma for Kamerath.

Danny Kamerath
​