From the bench: The postage stamp
One couple's saga as they pursue the idea of a dream shop in a village.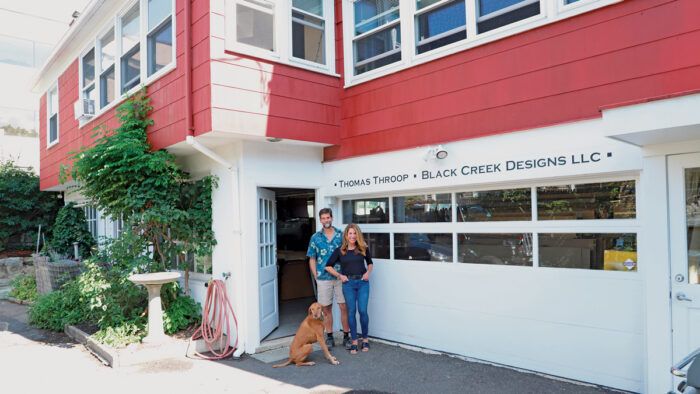 Synopsis: One couple's saga as they pursue the idea of a dream shop in a village. See "A shop in the village" by Thomas Throop.
---
'It's small, but it could work." I looked at my husband, Tom, as he stood in the corner of the shop, hand on a copper waste pipe. He gazed pensively around at the 1,220-sq.-ft. space dotted with cabinet-shop detritus. Outside, the rain poured down. I briefly reflected on the odyssey that had brought us to this 0.05 of an acre—a postage stamp of a property.
We had been looking for a studio to buy for his furniture-making business for years. Tom had long rented shop space in Connecticut, first in South Norwalk, then in Bethel. Both were solid spaces: plenty of room, good natural light, affable and dependable shop mates.
However, these spaces were in industrial areas, and he had always dreamed of having his shop in a village.
We needed to find something permitted by zoning laws and within our means. Then, in November 2005, our realtor called saying there was a building for sale at 26 Grove St. in New Canaan that used to be a cabinet shop. It was owned by Mrs. Pustella, who still lived in the apartment over the shop, where Mr. Pustella, now deceased, had made cabinetry. Our realtor said 26 Grove would sell quickly, so we drove over that night. While we had both grown up in New Canaan, neither of us knew this small, worn building tucked away by the railroad station lot, right near town. As Tom stood there, saying it could work, I believed him. But the building needed vast interior and exterior renovation. It was borderline dilapidated.
We could not view the second floor that night because Mrs. Pustella was in residence, and it was late. We returned in a few days and met her—this memory is now a precious link to the past. But the apartment was so run-down it would need to be taken back to the studs. And then the financial component reared its head—how would we outbid others for this property, save funds for the renovation, but keep it affordable?
We immediately worked on the numbers. I am an attorney with some real estate background, which helped. Tom had the knowledge to estimate the renovation cost. We figured out what we could afford, talked to banks, and submitted our bid.
Shortly after, the realtor called saying that the building had received nine offers, and the winning offer was a quantum leap above ours. We were crestfallen. But as time went by the building did not seem to close. Word got out that the sale fell through. The building went off the market.
And then, four months later, it came back on. We got our financial ducks in a row again. We bid again. We lost again to a higher bidder.
That summer we heard that the second-round winning bid fell through. It turns out that the dearth of parking (two spaces with no room for more) was a fatal impediment to a higher use. We met with the town planner, and he said that the best and highest use for the property was truly just to continue the present use—with a woodshop on the first floor and an apartment on the second. Zoning was on our side. But was fate?
A third round of bids ensued. We bid. We got it. Nothing in this world can take the place of persistence. We closed, almost a year after we first saw the shop, on our ninth wedding anniversary in September of 2006. Just a week before the closing I left law firm life to start a practice with my brother a short walk from 26 Grove St. in New Canaan.
After the closing, Tom and I suited up in our best and went out to dinner to celebrate new beginnings. The next day we suited up in our worst, donned masks, and began the interior demolition. The postage stamp was ours.
Kelley Franco Throop practices law in New Canaan, Conn. Read more about Tom's shop in Shop Design. 
From Fine Woodworking #293