Benchmarks: Mike Mascelli—When artistry meets talent, great furniture results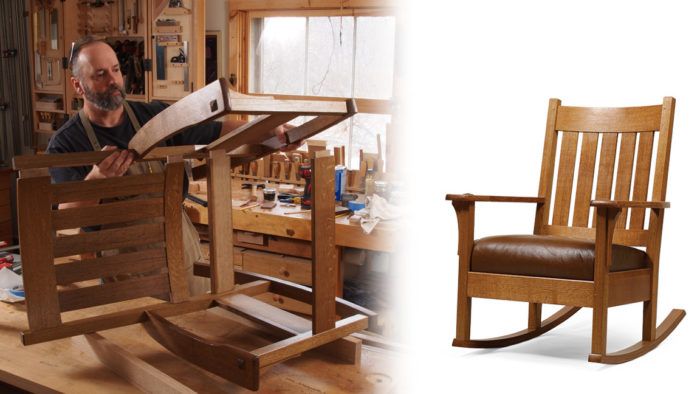 I was always a hands-on crafts kind of kid, and even though my father was the only one in our neighborhood who had a genuine 1950 Delta tablesaw (which I still use), I was far more interested in playing in a rock band in high school than I was in doing any serious woodworking. But I clearly remember the excitement of getting issue #1 of Fine Woodworking (which I also still have) back in 1975 and opening the door of a whole new world. I soon learned of the absolute technical mastery of Frid, the impeccable artistry of Krenov, and the wonderfully reckless melding of both by Maloof.  I read every article, scrounged the flea markets for Stanley planes, and drooled over the glossy pictures of shiny tools in the Garrett Wade catalog. However, my interests soon turned to restoring old cars and building a workshop to restore old furniture, where of course I included the legendary poster of the Studley tool chest that was on the back cover of FWW in 1988.
Little did I know that through a chance meeting with finishing expert Bob Flexner, I would fall in with a bunch of the most creative and knowledgeable people working in the conservation and restoration trades. One of them happened to be Don Williams, who was then Senior Furniture Conservator at the Smithsonian and who had done an excellent article on shellac for FWW. And in a wonderful irony I was able to work with Don on a number of his projects including "Virtuoso," which documents that same amazing Studley tool chest.  In the process I got to actually handle some of the Studley tools and have even gotten to portray Henry himself at a number of lectures and events. It helps to be skinny and balding. Aside from that fun stuff, my day-to-day work has always been that of the often unknown upholsterer, whether it be for national champion show cars or high end antique furniture.
I love the workshop tips, I love the galleries, I love the back covers, but if the world of woodworking is a tuxedo, I often feel like a pair of old brown shoes, necessary but a bit out of place. I have been actively teaching both finishing and upholstery for many years and dutifully scouring the pages of FWW for the articles by folks like Jeff Jewitt, Teri Masaschi, Mitch Kohanek, or Tim Puro, all great finishers trying to demystify the art of making wood brown and shiny. And just occasionally there would be a mention of the need for upholstery.
That all changed for me when I got the chance to work with FWW Editor Mike Pekovich on a chair project for a class at Connecticut Valley School of Woodworking (thanks to Bob Van Dyke). The collaboration between furniture makers and upholsterers has been going on for centuries and getting to work jointly on a project from the outset is by far the most satisfying way to bring together the different skills and achieve a handsome and comfortable result. It is my fondest hope to continue the conversation with as many furniture builders as I can, and there is no better place to do it than Fine Woodworking in all its print and multi-media formats.

Mike Mascelli
​
A traditional finish still yields outstanding results.

Donald C. Williams 

If the workmanship in a tool chest is any indication of the maker's talent, then the craftsmanship of master carpenter and stonemason H.O. Studley must have been awe-inspiring.

Fine Woodworking

A fast, flawless, finish costs less than you think.

Mitch Kohanek

Dyes and glazing bring out the best in this traditional hardwood.

Jeff Jewitt

Add warmth, depth, and age using commonplace products and foolproof techniques.

Classic style meets comfort in this sturdy oak rocking chair.

Michael Pekovich
​