Shellac Finishing
A traditional finish still yields outstanding results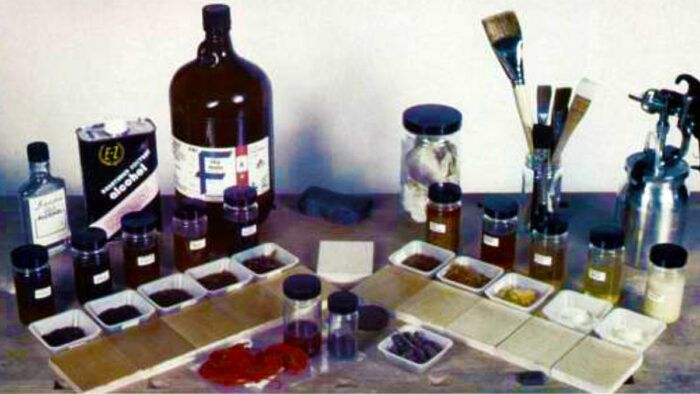 Almost everybody has heard the old wives' tales about shellac: It's not easy to use, it doesn't look good, it isn't durable, and so on. These notions are easy to refute. Shellac, for starters, is the main ingredient in most contemporary French polishes, arguably the most beautiful finish known.  In addition, shellac resists ultraviolet· light degradation better than most un· pigmented finishes, and it is tough enough for floors and bowling alleys, two traditional uses. It is more resistant to water vapor transmission than polishes, oils and many lacquers and oil varnishes, making it a good choice where humidity levels swing widely. Moreover, shellac is an excellent sealer, able to cover waxes, knots and many existing finishes. Shellac dries quickly by evaporation and doesn't need the curing time required by oils and oil· base varnishes.  Also, and it's no minor point, damaged shellac finishes are easy to repair because hardened shellac can be redissolved in alcohol.
Shellac is the most widely used finish in the conservation of historic furniture and is also a good choice for finishing contemporary woodwork. It can be used as a finish without needing any other sealers or topcoats. If applied as a sealer only, most other finishes will adhere to the shellac either with a chemical or a mechanical bond, provided the sealer coat is applied thinly enough that it dries matte rather than glossy. Shellac can also be padded over many finishes for spot repairs.  A heavy shellac coat over an existing oil base floor finish, however, would very likely crack because the materials "move" differently.  Combining layers of finish that have different solvents and resins is risky, unless common sense, experience and testing tell you otherwise.
The only "secrets" to successful shellac finishing are to mix your own solution using quality shellac flakes, which ensures that the shellac is fresh and will dry properly, and to use an alcohol solvent of sufficient purity. Application methods don't require sophisticated equipment. Any careful beginner can produce a surface of remarkable clarity, depth and luster.  In fact, in my opinion, shellac is the most attractive finishing material around.
Before discussing some techniques of shellac finishing, I would like to talk briefly about the history and properties of shellac and the methods of its preparation. This overall picture will go a long way toward explaining the varieties of shellac-both ancient and modern- that you may encounter in the marketplace today.
The shellac trade between the Orient and Europe began in the early 17th century with lac dye — a  scarlet  by· product of shellac — as an  inexpensive substitute for costly  cochineal dye. The resin itself did not achieve widespread use in the West for nearly two centuries. Shellac finishes on furniture became fashionable at the beginning of the 1800s, and their popularity continued unabated until the development of synthetic resins, particularly nitrocellulose lacquers, in the 1920s and 1930s.
Late in the 19th century, aniline dyes replaced lac dye, thus eliminating a large part of lac commerce. Coincidently, new pro­duction methods made shellac resin available in great quantity. This led to its increased use in a number of applications, including electrical insulators and gramophone records (most old 78s are solid shellac). Following the discovery of the first synthetic resin, Bakelite, the importance of shellac as an industrial resin diminished.  Nevertheless, it's important today as a coating for such diverse things as electric-motor windings, fruit (shellac wax is what makes supermarket apples shine), candy (M&Ms, for one), pharmaceuticals (time-dissolving capsules), leather and wood.
---
From Fine Woodworking #71
To view the entire article, please click the View PDF button below:
View PDF