Workshop tip: Door hinges are the key to this log-milling jig
Use hinges to attack small logs to a platform and cut them on the bandsaw.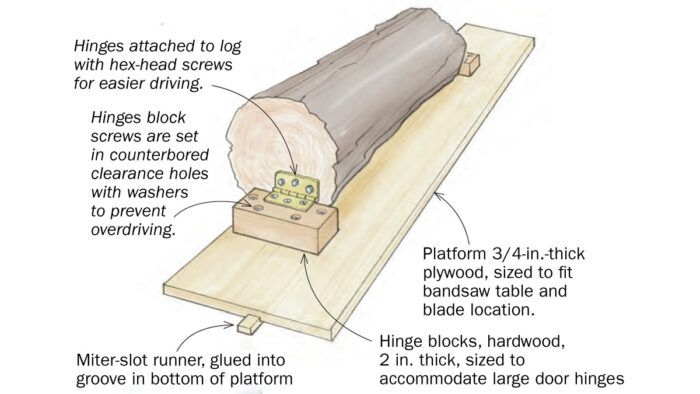 For a while now I've been using a sliding bandsaw jig to slice boards from small logs—up to 12 in. dia. and 6 ft. long. The key to the function of the jig—which is just a piece of 3/4-in. plywood with a long miter-slot runner attached—is using large door hinges to attach the log to the platform. The hinges are attached to blocks, which you can screw down quickly anywhere along the length of the jig. Attaching the hinges to the log is just as fast, making it easy to change the log's position for different cuts. The setup also requires some sort of outfeed support, with a gap to accommodate the runner. I screw two pieces of irrigation hose to the tops of my work stands to accomplish this. For larger logs I reposition the log for each new cut. For smaller ones, I flatten two faces at right angles, put the jig aside, and run those faces against the fence and table from there.
—JEREMY FOATE, Christchurch, New Zealand
Illustrations by Dan Thornton
From Fine Woodworking issue #291