Managing a dining table with massive components
To help manage this large project, Tim Killen designed this farmhouse table with five separate assemblies.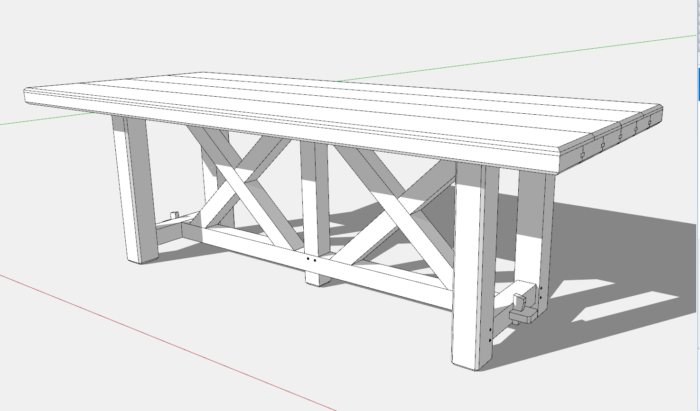 Along with a student, I'm working on a SketchUp design for a country style dining table. This is a heavy piece, and since SketchUp provides volume data for components, I could quickly estimate weight at about 550 lb. in white oak. Nevertheless, this will fit in nicely with his large shop and home. Above is a SketchUp perspective view of the assembled model.
Below is an Orthographic showing key dimensions.
To help manage this large project, I designed the table with five subassemblies; two Sides, an X-frame center rail, an Inner Plank Top, and Outer Facing Top. These subassemblies are then connected by bolts, screws, and tenon wedges in the final assembly. Here is a view of these disconnected subassemblies.
I've used a SketchUp Plug-in, Keyframe, for animating the process of final assembly, then exported to a video as shown below.
Tim
KillenWOOD.com