Workshop tip: Magnetized block keeps chisel square
Hardwood, rare-earth magnets, and a chisel that won't slip out of alignment.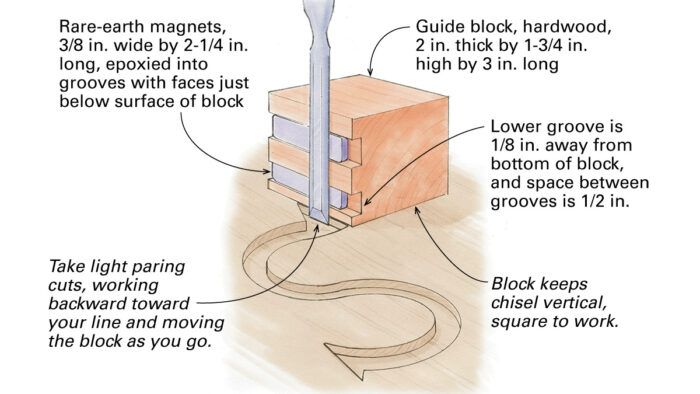 As I was inlaying a maple "S" into a walnut plaque, I came up with the idea to magnetize the block I was using to guide my chisel. The new block keeps the chisel much more stable as I pare back the recess to my layout lines (after routing away most of the waste). To make the guide, I jointed two adjacent faces of a hardwood block, cut two grooves in the vertical face, and epoxied two long rare-earth magnets into the slots. They sit just below the surface of the wood, which lets them hold the chisel firmly without impeding its sliding action. I found the magnets on Amazon.com, and made the block wide enough for my widest paring chisel. It works so well that I'll be making one at 45°, and another at 90° with a vertical fence glued to it, to guide my mortise chisels.
—RUSSELL SHELLY, Haddon Heights, N.J.
Illustrations by Dan Thornton
From Fine Woodworking issue #290