From the bench: My gift is my craft
As a child, Philip Morley's dyslexia kept him from succeeding in traditional schools, but thanks to trade school, he found his own way to soar.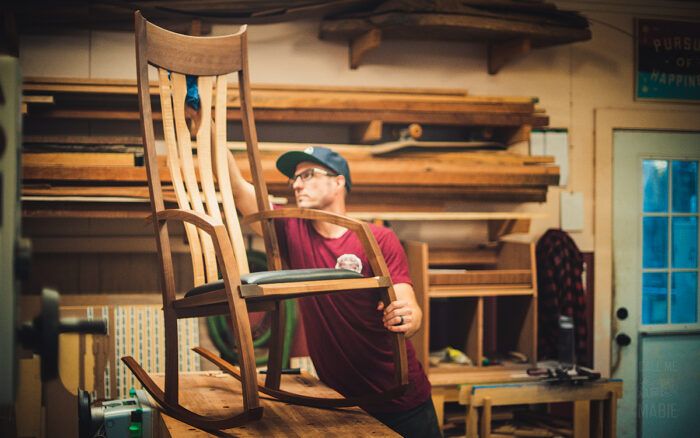 I have dyslexia. It has taken me a long time to be able to say that without a feeling of shame. This sense of shame was developed early in my life and was reinforced many times through early adulthood. As a kid and teen, traditional schooling felt closed off to me in a way I couldn't control. As a result, traditional life routes felt closed off, too. The system always seemed to be working against me. Woodworking offered me the first visible path forward. And I sincerely believe that this is a path everyone deserves to have available to them.
Dyslexia is a language-based learning disorder that affects areas of the brain that process language. It shows up differently in different people, but for me and many others, it makes reading, writing, and even speech a constant struggle. The root of the problem is the way my brain is wired, making the connections necessary for reading and writing very difficult.
The schools I attended as a child in England had no idea how to approach my dyslexia. My teachers simply assumed I was lazy or stupid … and therefore, so did I. They tried to drill reading and writing into me, believing that if I just worked hard enough everything would eventually click.
Not surprisingly, by the time I reached my teen years I had a pretty bad attitude. I was short-tempered, frustrated, and easily offended. Eventually, I was expelled because of my tendency to lash out physically when teased. This expulsion turned out to be a blessing.
My next school focused on special needs students and behavioral problems. Although it did little for my dyslexia from an academic standpoint, this school taught me valuable lessons. Watching the struggles of other students helped to shift my perspective on my own struggles. I found that I could be helpful to others. The teachers there helped me to realize that I had value, even if reading and writing remained elusive.
"For the first time, I was told I was good at something, and that was all I needed to truly thrive."
But old habits are hard to break, and I ended up involved with a group of local teens who did not always make the best decisions. I found myself in serious trouble. During a sentencing for driving a stolen vehicle, a judge saw past my poor decisions. She decided not to send me to a juvenile detention center, but gave me a lesser sentence and encouraged me to focus on a trade school.
Trade school was where my life turned around. For the first time, I was told I was good at something, and that was all I needed to truly thrive. After I had finished initial projects early and well, the teachers started challenging me with more advanced assignments. They believed in me, and I rose to the occasion. I now know that the same wiring that made it so difficult for my brain to process words made it easy for me to process structures and visualize design and construction.
I finally found my calling. Yes, I worked hard at it and it became a passion, but I can't deny the luck involved. England had a solid network of trade schools. If it hadn't, I could have ended up in juvenile detention instead of pursuing my vocation. I have since learned that in Texas, where I live, 80% of prison inmates are functionally illiterate and almost double the percentage of inmates suffer from dyslexia as the general population.
In recent years, decades after all my difficulties in school, I've been teaching woodworking around the country. It's been a wonderful experience. At first, old insecurities crept up. I was terrified of having to write something in front of a class or of any expectation for those assumed skills, so I shut down any offers to teach. What business did I have in the front of a classroom? My reading and writing skills made me timid. But just as there's more than one way to learn, there's more than one way to teach, and I have plenty to share. So I ask students to write on the board when necessary, and I handle the rest. I have learned to embrace the gifts I have and spend less time regretting those I don't.
With this newfound self-assurance in hand, I have an eye to the future. My experience as someone with a learning disorder who ended up in the criminal justice system is far from unique, but the opportunities to escape feel rarer these days. I'd love to open up woodworking classes for kids and adults with dyslexia. My gift is my craft, and just as bits of luck helped me turn my life around, I'd love to share that gift with others in a similar situation.
Philip Morley makes custom furniture in Wimberley, Texas.
From Fine Woodworking #290
---
Low-profile clamps and blue tape combine to eliminate buckling during the glue-up.