Workshop tip: Smart router jig for three-legged tables
This jig helps cut the dovetail sockets in the turned legs cleanly and uniformly.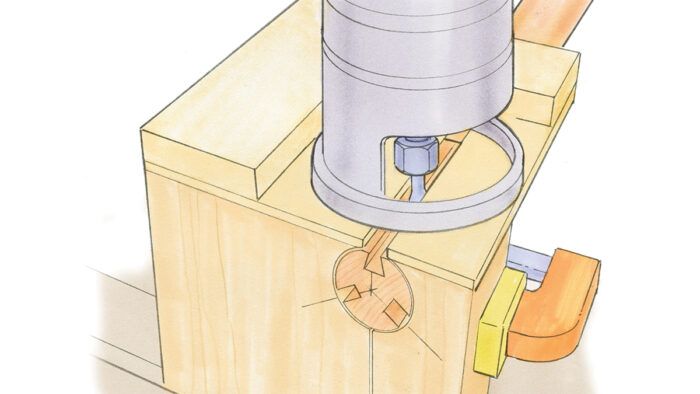 The most daunting part of building tea tables, candle stands, and other three-legged tables is cutting the long dovetail sockets that hold the legs in the central column. After cutting these once by hand, I came up with a router jig that cuts them more quickly and uniformly. I've used it to make four more of these tables since.
The jig is pretty straightforward. To cut the hole in the base, I used a large Forstner bit of the appropriate size. The bandsawn slot below the hole makes the base flexible for clamping. The fences on top guide the router and limit its travel, and thus determine the length of the dovetail sockets.
Using the jig is easy. After turning the column to the right size, mark the bottom end with 120° centerlines and the dovetail layouts. Then clamp the column in the jig, aligning your layout marks with corresponding marks on the jig. Cut each slot in three steps, using three router bits. Use your penciled layout to set the depth for each bit.
I start with a 3/4-in.-dia. straight bit to mill the flat on each leg. Then, to clear out some of the waste in the dovetail, I change to a 1/4-in.-dia. straight bit, keeping its cutting depth slightly above the bottom of the finished socket. The final cut is with the dovetail bit of choice.
To cut the mating dovetail keys on the legs, I mount the same dovetail bit in the router table, and creep up on the fit. If the joint is a bit tight, I often use a small file or chisel to widen the slot very slightly at the opening and narrow the beginning of the dovetail to create a slightly tapered joint.
—ARNIE BANDSTRA, Ottawa, Ill.
Illustrations by Dan Thornton
From Fine Woodworking issue #290
---