Clean as you go
Stay ahead of the mess. Your work will improve, and your dog will thank you.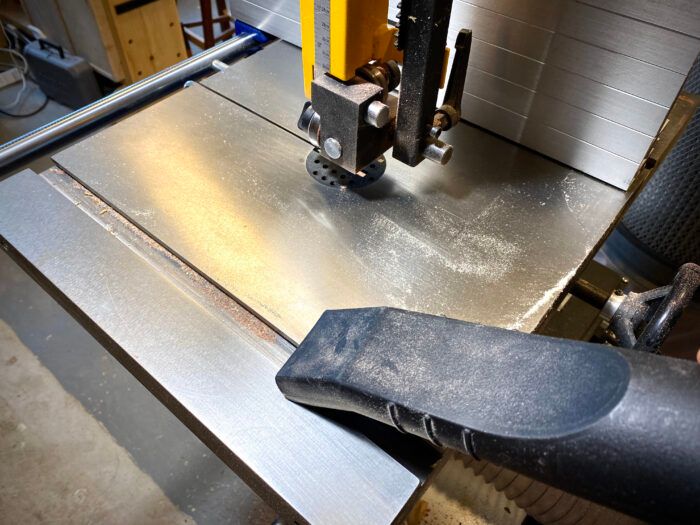 There are many certainties in woodworking, such as wood movement, horizontal surface clutter, and sawdust getting everywhere. We try our hardest to contain the sawdust and chips with dust collectors, but it's impossible to get it all. Eventually all of that mess settles on surfaces and requires our attention, but when do you tackle it?
In the past, I simply allowed the mess to accumulate as a project progressed and then I would do a mass cleanup at the end to get reset for the next one. This sort of worked, but the truth is, I would get progressively more irritated by the mess as time went on. Recently, we added Bruno the shop dog to our family and that had me revisiting my shop habits.
Bruno likes hanging out in the shop and I like having him there. He is a calming force, and he knows just when to lick your hand or nuzzle in for a pet. He is also a Labrador Retriever and tries to eat anything that isn't nailed down and sometimes even the stuff that is. If left unchecked, he will hoover up any sawdust, shavings, and wood chips at his level. I'm sure a bit of sawdust is OK here and there, but I'm not interested in risking things and getting to the point where his bowel movements resemble small sheets of MDF. In order to have Bruno hang out with me safely in the shop, I've started to modify my habits.
Instead of leaving things a mess for long periods of time, I get to the cleaning right away. I'll make some cuts on the bandsaw, then quickly vacuum up the sawdust that the dust collector didn't get. It takes about 10-20 seconds and it's done! I've been using the vacuum more than the broom. This is fast and kicks up much less dust, which means less for the lungs to handle. I always felt that spot cleaning like this would slow me down, but in reality, a minute here and there is much less than the total time an end-of-project cleanup would take. I also worried that stopping to clean would interrupt my "flow," but I haven't found that to be the case.
Cleaning as you go is not for everyone, but it certainly has improved things in my own shop. Bruno's fiber consumption has reduced dramatically, which means we can hang out and I don't have to worry about his digestive tract. Try cleaning as you go during your next project. You may enjoy the new cleanliness, and who knows, maybe you'll find yourself sharing your space with a shop companion.
---