Tiny Bit of Wood for a whole lot of people
Opening an affordable school where woodworking is therapy, and the marginalized are centered.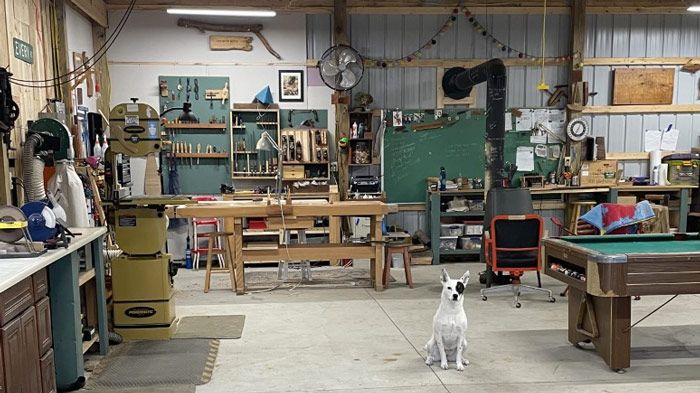 Eight years before starting her one-woman shop in Holt, Mich., Megan Shannon learned the healing powers of woodworking when she built her first project. Now, after setting up her space, Tiny Bit of Wood, she wants to open up her shop's doors—and its ability to restore—to others, especially those who may have a harder time getting there, whether the barriers are financial or social.
The start
Shannon's first build was a sewing table. It was a gift for her mom, a once-avid sewer who had to put down her needle and thread because stooping over hurt her back. The table was sized and built to alleviate this pain, letting her mom continue the hobby she loved for so long. For Shannon, it opened her eyes to a hobby of her own.
Fast forward to today, when Shannon, like so many woodworkers, savors the time in the shop as much as she does the finished project. As Tiny Bit of Wood, Shannon builds and sells furniture, frames, and custom wood art, but if she didn't have to pay bills, she'd still be in the shop. She'd just work on some more shop projects. Shannon says, "If I had endless time in my shop with no need to make money, I would make shop accessories and organize the shop itself."
She knows this appears overboard to the outside world, but many woodworkers probably understand the impulse.
"I just love building things that make it run efficiently. Some of my friends say I have a woodshop just to clean it."
Shannon's shop is her haven. Just like her sewing desk helped her mom work through back pain, her woodshop has helped Shannon work through her own pain from grief. She once grew very close with a student, Sean, who passed away unexpectedly two years ago. He was 12 years old, and they were part of a team working toward a community farm for people with disabilities.
After his passing, Shannon knew where to turn.
"In healing from my own trauma, I have never found anything as helpful as my shop—creating something beautiful, learning a new skill, and feeling so empowered by it."
The school
To share that feeling, she's working toward opening her own school, which she describes as the "Tiny Bit Of Wood school of woodworking as therapy."
"Anyone who would normally struggle to find the outlet to learn woodworking will have a place in this school. I have gotten a lot of pushback as a female woodworker, so I want this school to be a safe place for anyone who is not in the trade's normal demographic. I plan to have one or two benches wheelchair-accessible and offer classes for the hearing impaired. Additionally, one class will be open only to women and non-binary people."
Shannon recognizes many of her students may be facing financial hurdles as well. To clear them, her school will have a pay-what-you-can pricing structure.
"Each class will be by donation only, and if someone can't afford it they can take the class for free. I have been very fortunate to have so many resources to build my shop to this point. Now I want to make it available to those who might not ever be able to afford the tools to learn this wonderful trade."
The strategy
To help open her shop's doors, Shannon has started a fundraiser via Go Fund Me. Her goal is to raise $10,000 for six foundational hand-tool kits and student benches. Each tool kit will comprise a #5 bench plane, a medium shoulder plane, two handsaws, a six-piece bench chisel set, a 6-in. engineer's square, and a marking gauge.
These hand tools will allow students to partake in Tiny Bit of Wood's first classes, which will involve making a mitered frame as students learn and practice essential hand tool skills.
This focus on hand tools is both foundational to woodworking and the school's overall purpose. Shannon says, "Working with hand tools has been one of the most empowering and therapeutic outlets I have ever found, and I want to share that type of therapy with others."