Herding apprentices
Vic tries placing his dust collector center stage in the shop, and finds a host of benefits from the arrangement.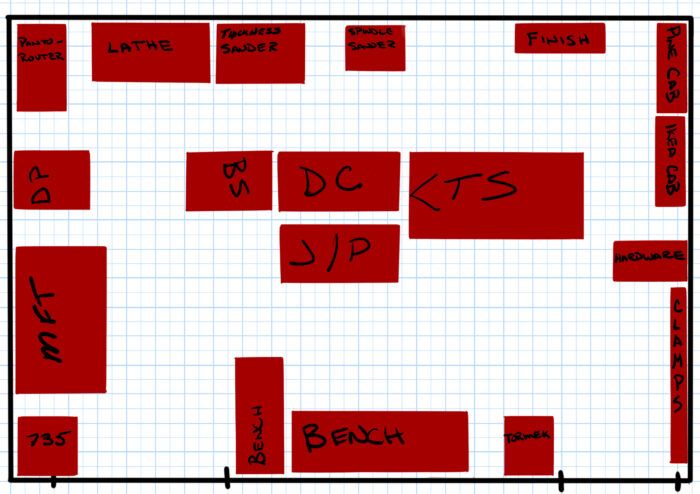 Since graduating from Rosewood I've laid out and worked in four shops. Every new space brings the opportunity to learn and try something new. In three of my shops, all of my apprentices (machines) were relegated to the outer perimeter of the space. This seems to be one of the most common shop layouts unless there is a lot of square footage, say over 500 sq. ft. When I was laying out my latest shop, I wanted to try something different. 
Something that all my apprentices need is dust collection because while they work quickly, they only take little bites. Instead of making one of them the central machine in the shop, I decided to give the coveted spot to the DC (dust collector) and arrange the "Big Four" around it. I think this arrangement has a host of benefits that get lost when you banish the apprentices to the outer walls.
Herding the bandsaw, jointer-planer, and tablesaw around the dust collector means that the longest hose run to the DC is about 10 ft. I've found multiple benefits from this arrangement: First, you aren't losing much suction to long runs of pipe or hose; second, you don't have to run said length of pipe or hose which can be a costly nuisance; and finally you can get away with a smaller DC because of those short runs. My DC is 2 hp and has enough suction to collapse hoses when you plug them. I likely could have used a smaller DC but they didn't have the filtration and chip handling that I wanted.  
I have three inlets on my DC and I fitted blast gates to each one, which makes them easy to reach and control. In truth, I could get rid of the blast gates altogether and still get great suction, but why not have more? Gathering the apprentices around the DC means that I can have four machines with unimpeded infeed and outfeed. If you are going to have apprentices, you need to give them room to work. This arrangement is working well as I haven't had to move any of the Big Four since setting up shop. 
There are still tools along the periphery of my shop, but they are the ones that require less in/out-feed and can be rolled around easily. When specialist apprentices like the thickness sander or router are running, I attach the hose for the tablesaw to get rid of their dust. 
My shop is always morphing in little ways here and there but the core of this space has remained untouched for the last six months. This tells me the workflow is good because nothing has annoyed me about it. There are some changes I need to make to some of the lesser-used tools with regard to their storage and use, but that's for another day.