How to Round Over an Edge with a Block Plane
Mike Pekovich demonstrates how he uses his block plane to create a simple roundover on an edge.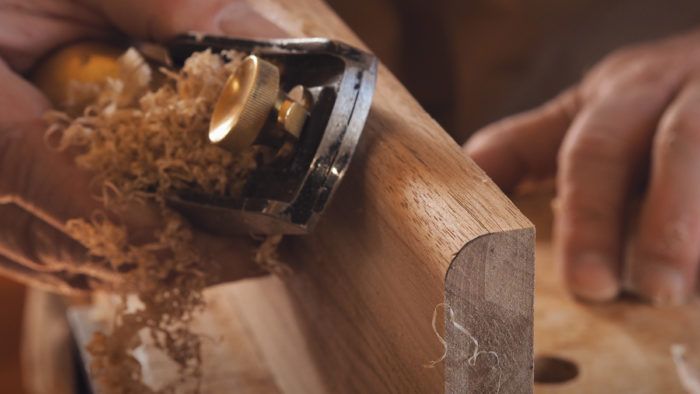 While a router bit may be the first thing that comes to mind for rounded profiles, I find that a block plane is usually a faster and always a more versatile option. It can easily handle any shape from a quarter-round to a bullnose, or something in between.
With the block plane, every curved profile begins with a primary chamfer. The width and angle of this chamfer will determine the shape and size of the curve. For a simple roundover, it's easiest to draw the curve onto the end of the stock, then draw a 45° line tangent to the curve. This will be the primary chamfer. Draw lines down the face and edge of the board where the diagonal line intersects them. Plane to the lines to create the chamfer. The next step is to plane away the points of the primary chamfer, creating secondary chamfers. Technically these are 22.5° chamfers, but I just tilt the plane until it's angled halfway between the primary chamfer and the edge or face of the board and call it close enough. Next, lighten up the depth of cut and continue to plane off the points of the facets until you're left with a rounded edge. On long-grain edges of a board I usually leave the last tiny facets; the corner appears round, but you can feel the facets as you run your fingers down the edge. On end grain, I'll often need to follow with fine sandpaper to get rid of the fuzzy texture. To create a bullnose profile, repeat the quarter round on the adjacent edge.
The key to consistent curves is starting with accurate chamfers. Begin by laying out the profile, then lay out and plane a chamfer tangent to the curve.
From Mike article "Block plane dials in the details" in Fine Woodworking #284.