Benchmarks: Ellen Kaspern — From cat cutouts to bretstuhls, a furniture maker's story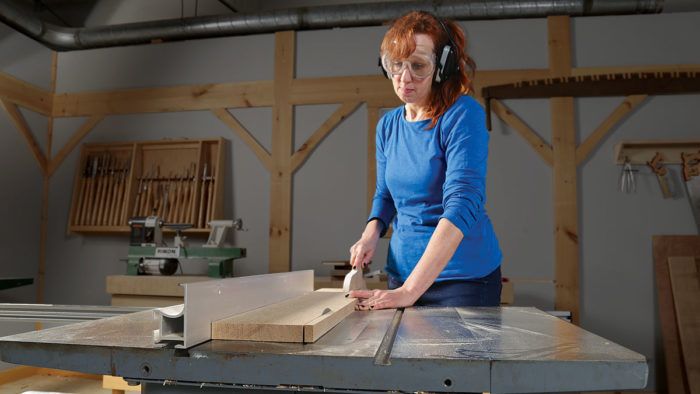 When I was growing up, my father had a small woodshop in the basement of our house. Some of my earliest memories are from his shop. I would stand on a 5-gallon bucket at the bandsaw and cut out countless shapes. Around age 10, I had a board game with an image of a cat in a walking pose. I quickly got to work tracing this image, making a pattern, and cutting out wooden cats on the bandsaw. It became my signature piece. My dad was so proud of my cats that most of them lined his workbench. I made other small projects too, a jewelry box for my younger sister and a wooden key chain in the shape of an L for my oldest sister. I just loved spending time with my dad and making things for my family.
As I got older, I would flip through my dad's woodworking books. Many were on Early American furniture. The Wallace Nutting books were some of my favorites. In 1991 during the summer of my sophomore year in college, I was looking through past issues of my dad's Fine Woodworking magazines and I read an article about the students at North Bennet Street School. I was amazed by the pieces in the article. I never realized that people could go to school for furniture making. I told my dad that I wanted to go there. I think his words were, "Great, but you need to finish college first."  Seeing the pieces in the article and first learning about the school changed my life.
I did finish college and attended graduate school in Boston.  Without realizing it, I found that I had rented an apartment that was directly across the street from North Bennet Street School.  After attending the school's open house that fall with my dad and speaking with the many students in the Cabinet & Furniture Making program, I knew my goal was to attend the school full time.  It was then that I started seriously reading Fine Woodworking magazine. I became inspired by its articles and featured furniture makers.
I do have two favorite articles from the magazine. Both are well worn as I have pored over them many times, using them as a reference for two pieces of furniture I've built. The first is "Graceful Glass Doors" by Steve Latta. Soon after graduating from NBSS I saw this article and set out to make a similar piece. I can't tell you how many times I have referenced this article to make doors with muntins and moldings. The second article is "Two-Board Chairs" by Drew Langsner. I have adapted the information in the article to design and build a few bretstuhls (board chairs) of my own and the information in this article is invaluable to me.
Seeing the article in FWW about NBSS started me on the path to where I am now. I graduated from the school in 2003 and soon after started teaching classes in their Continuing Education Program. Today I am an adjunct instructor in their full-time Cabinet & Furniture Making program. One of the highlights from my woodworking career was being able to write an article for the magazine on how to tune up your tablesaw, followed by making instructional videos for the digital library with my good friend Matt Wajda. I often think how proud my dad would be to know that I have written articles and done a series of videos for Fine Woodworking.
Ellen Kaspern​
​
Delicate muntins require exacting machine work and handwork, but they create doors of elegant proportions

Steve Latta

Plans and methods from a Swiss woodworker

Drew Langsner

A few key adjustments get your saw cutting smoothly

Ellen Kaspern

A well-tuned machine makes woodworking safer and more accurate, and makes your shop time more enjoyable

Matt Wajda, Ellen Kaspern