Woodpeckers Introduces the Multi-Function Router Base
Adaptable to any router that uses extension guide rods.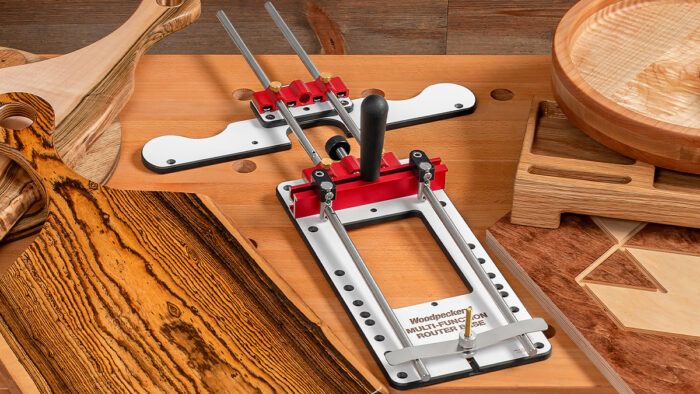 From Woodpeckers®:
Strongsville, OH – Northeast Ohio tool manufacturer, Woodpeckers®, recently announced its new Multi-Function Router Base. This tool adapts to most routers and adds micrometer adjustment to position the bit precisely where you want it, then guides the bit perfectly parallel to the stock edge or in a flawless arc.
Woodpeckers president, Rich Hummel, said of the release, "Routers, more than any other power hand tool, need some sort of guide to make them accurate. We designed a guide that works in several different ways and gives you a world of opportunities."
A generously proportioned fence mounts to the base or an extension head, giving you a range of 0″ to 21″ from fence to the center of your bit. Similarly, the base has four locations for the trammel axis point, allowing you to cut circles as small as 3/4″ and up to 8-1/4″. Move the trammel pin to the extension head and you can cut circles as large as 45″. Optional extenders can be added to take circle capacity to nearly 5′ and parallel guiding to 30″.
Adding another dimension to the system, a pair of centering pins can be added to the base to precisely center your bit on stock up to 4-7/8″ wide. This is particularly useful for mortising. The geometry of the base and the micro-adjuster combine to make it possible to cut mortises larger than your router bit with a high degree of accuracy.
Woodpeckers has focused on the needs of hobbyist woodworkers since 1988 and began manufacturing the majority of their offerings in 1993. The company makes precision layout tools, router tables and lifts, innovative clamping tools, carbide-tipped woodturning tools and a wide variety of helpful shop products. Their facility houses a vast array of computer-controlled mills and lathes and employs over 100 skilled American workers.
Complete details on the Multi-Function Router Base can be found at the Woodpeckers website: woodpeck.com.