Gesso Highlights Carvings
Kristina Madsen embodies her carvings by scrubbing tinted gesso into the facets of naturally finished or painted surfaces to create contrast.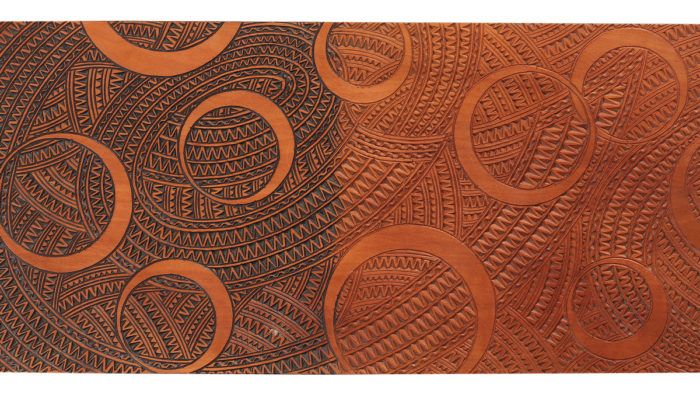 Gesso emboldens the pattern
When Madsen began to carve patterns in furniture, she quickly learned that the fine marks that were brilliant on handheld Fijian objects were much less visible on stationary and larger-scale furniture. Though striking when light raked across the surfaces in just the right way, when viewed frontally and from a distance, they were often lost. She began to scrub tinted gesso into the facets of naturally finished or painted surfaces to create contrast.
| | |
| --- | --- |
| | |
Black or white gesso makes the carving pop. After she brings the surface to a finished state with a sealer coat of 2 parts oil to 1 part varnish, then four to five coats of a 50/50 oil/varnish mix, Madsen begins carving. Working on small sections at a time, she uses a toothbrush to scrub either light or dark gesso into the carved pattern, then immediately wipes the film off the surface with a damp cloth. The surfaces with the finish on them resist the gesso. Then she finishes the piece with two coats of a thinned-down mixture of 2 parts oil to 1 part varnish.
Madsen never uses straight gesso. Instead she adds pigments, warming white gesso with ochre and black to get to an off white, and warming black gesso with red.
Gesso enhances the look. Gesso, very similar to acrylic paint, only thinner, is a combination of paint pigment, chalk, and binder. Historically, white gesso was made for oil painting and was traditionally used to prepare or prime a surface so oil paint would adhere to it. Madsen uses it to add another dimension to her carvings, whether paired with bare wood or wood that's been milk painted.
Gesso Over Milk paint
To create these vibrantly colored patterns, Madsen first applies milk paint, then seals it with the oil/varnish mixture, bringing the surfaces to a finished state. Then she carves the pattern. After scrubbing the tinted gesso into the finished carving, she wipes it off and applies the final coats of the thinned down oil/varnish mixture.
When you're tinting gesso to go on a milk-painted piece, you must experiment with tint to get the desired match with the particular milk paint color. Test the two colors together. The color of the gesso may look like one thing in the jar, but when it is paired with the milk paint it can take on a very different shade. Madsen does a lot of trial and error and testing.
Photos: David Stansbury and Michael Pekovich
From the article "The decorative carvings of Kristina Madsen" in Fine Woodworking #284