Second chances are crafted here
In the New Hampshire Furniture Masters prison outreach program, woodworking really does change lives.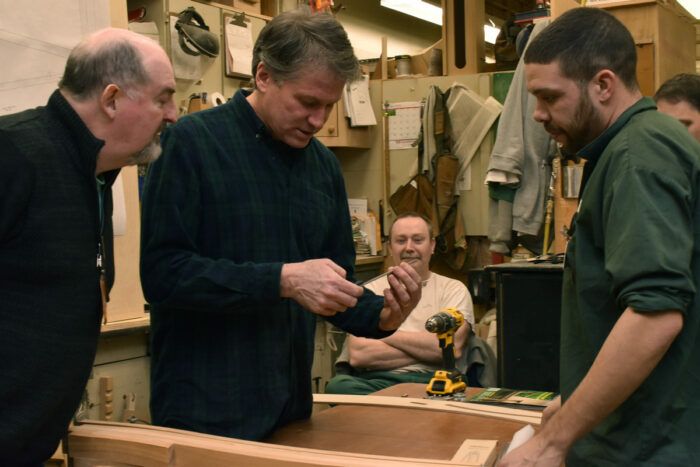 "There is something in the act of making something beautiful from raw material that affects the maker. It's a rehabilitation in the best sense."
—Tom McLaughlin
• • •
The power of woodworking to change lives is not a new concept at Fine Woodworking. Pretty much everyone who works here can say that woodworking has changed their life in some way or another. And over the years, we've heard countless stories from military veterans and others who have found the peace, inspiration, and focus they needed through the act of creating things from wood.
So it wasn't a huge surprise to read LaShawn Long's letter this past spring, entitled "Woodworking changed my life" (From The Bench, FWW #288). Even so, we have not often received such an eloquent testimony about the power of learning a craft.
Long, an inmate in the Wisconsin Correctional Facility, submitted a column about his woodworking experiences in prison and, in particular, the teachers who have helped give him a new outlook. He is one of many prison inmates across the country who participate in woodworking and carpentry programs, along with other vocational education and craft programs.
In New England, where our home office is located, the New Hampshire Furniture Masters have been working inside the prison system for more than 20 years. The Prison Outreach Program (POP), started with the encouragement of Superior Court Judge Kathleen McGuire, takes the typical vocational-education programs offered in prisons to another level, bringing masters of the craft in direct contact with inmates. In monthly seminars, furniture makers like Tom McLaughlin, Terry Moore, Garrett Hack, and many others have spent time with a select group of inmates giving them training, critiques, and guidance as they learn the more advanced skills of fine furniture making.
The POP has three branches. The program at the New Hampshire State Prison for Men is the oldest, started in 1999. In 2012, a similar outreach program was started at the Maine State Prison. And this past year, the newest arm of the program was ready to launch, this time at a women's prison. The first classes to be offered the New Hampshire Women's Correctional Facility were to begin in March 2020. But then the pandemic hit. All of the programs are suspended right now due to Covid-19. But all are set to resume once the emergency is over.
Each branch of the program has the same goal: to bring furniture masters into the prisons to teach inmates about woodworking. In the process, both teacher and student are fundamentally changed.
New Hampshire: Building furniture, building lives

The men's prison in New Hampshire has a bright and busy woodworking shop where, through its Hobby Craft woodworking program, some 60 privileged inmates learn from some of the brightest stars of woodworking—furniture makers that almost any FWW reader would be thrilled to meet. To participate, an inmate must have a clean disciplinary record and a positive outlook. Over the years, the program has become so popular that there's a waiting list to participate. Each year, work by a few of the makers is featured in the Masters' annual catalog and sale.
Once a month, Tom McLaughlin and Terry Moore, along with special guests, give seminars to the woodworker inmates on topics ranging from basic hand-tool skills to advanced techniques. "We have an amazing pool of accomplished woodworkers who participate," McLaughlin said. They give presentations (much like you might see at Fine Woodworking Live, for example), and then afterward spend time with the inmates answering questions, helping them with their projects, and offering critiques. Over time, participants with the drive and ambition to persevere can become accomplished furniture makers. Some have made it as professionals after serving their time and rejoining society.
After 20-plus years with the program, neither McLaughlin nor Moore has lost the feeling of wonder that comes when they observe the power of woodworking to change lives.
"Some people learn the skills and do well, while others really latch onto it and it does really transform them," Moore said. "I think of these men as boats without a rudder, who have been drifting all their lives. And then someone comes along and says 'you can do this.'"
"Wood is a beautiful medium, with endless opportunities for creativity and new designs," McLaughlin said. When an inmate catches the woodworking bug and aspires to something higher, that's a thrill every time. "Something deeper than woodworking is happening here, and we share in it."
Moore has many stories to tell about inmates who learned furniture making in prison and were able to turn their lives around. In particular, he tells the story of Tim Eldridge, one of the early participants in the program, whose Shaker hall table was featured in a NHFMA show and purchased by former Gov. John Sununu. Eldridge eventually earned his release from prison and, as Moore tells it, was sent to a halfway house and told to "go get a job." With his furniture making skills, honed over many years in prison, he was able to go out that first day and get employment in a cabinet shop in Manchester, N.H. Within two years he was in charge of a department in that shop. He's bought a house, and "he's got life figured out," Moore said.
Another beneficiary of the program was a wood turner named Donald Briere. "He got out and he called me and I took him out to lunch," Moore said. Briere had been selling his intricate segmented turnings through the prison shop. When he got out, Moore advised Briere to get involved with the League of New Hampshire Craftsman. He took that advice, and "the first year out of the gate, he won Best in Show" at the annual craftsman's fair. "He's won it several times now," Moore said.
What is it about learning a craft that changes some people? Moore explains it this way. "I think they have nothing in their lives, and through involvement with bad people, drugs, and alcohol, something goes horribly wrong. And after that, they have very low expectations of themselves. Then somebody comes along and says 'you can do this' … 'you can win Best in Show' … and it gives them a focus and ambition they have never had before."
Writing for one of the annual catalogs of the Furniture Masters, McLaughlin described the experience of teaching in prison this way: "When you step into the inmates' world and share what you love, something catches fire and begins to grow quite apart from you—something good. How can I look at their beautiful exhibit pieces and not have a sense that there is a profound lesson in it all? It is as if God is saying something: No matter who you are, where you are, or even what you have done, you are valuable and capable of inspired, generative acts."
A busy shop in Maine
Inspired by the success in New Hampshire, the outreach program at the Maine State Prison has been operating since 2012 under the direction of Brian Reid, Howard Hatch, and Jeffrey Cooper.
"Eight years ago my good friend and fellow member of the NH Furniture Masters, Brian Reid, took his cue from the POP program in New Hampshire and went to the warden at the prison in Warren, Maine, with a proposal to start a fine woodworking program there," Hatch explained. The prison has a large shop where more than 100 inmates work on weekdays making products for the prison store, but Reid thought even more could be done.
"Brian saw a need for more advanced and complete instruction in the craft of working with wood, and he got approved to teach on Sundays," Hatch said. "I joined the program shortly after its inception. Brian and I at that point had both been professional craftsmen for over 30 years. I was intrigued because I had never taught and this gave me an opportunity to have the experience."
So every other Sunday, until the Covid pandemic forced the suspension of classes, they have taught in the prison woodshop. They start with the use and sharpening of hand tools.
"This is the foundation of all comprehensive courses in the craft. At this point we work very closely with a new student observing, commenting on what is going right or wrong, showing with our own hands how to accomplish the task of cutting a sample mortise and tenon joint or other joints."
Next, the students make a small bench or box, gradually moving on to more complex projects. After a time they learn veneering and inlay skills. Eventually the inmate gets to choose what he wants to make. Guest instructors come in to share expertise on different specialties.
The prisoners who are admitted into the program have demonstrated both aptitude and a good attitude, Hatch said. So far, none of the students have gotten to the point of being released from prison, but Hatch says there is one promising woodworker who is due to leave in two years. "His plan is to start up his own workshop and be a professional. We think he has the skills to make a go of it," he said.
One highlight of Hatch's time with the outreach program is a big job they are working on for Reconnect, a Portland-based startup company that makes electronic monitoring devices for paroled inmates. The CEO had called Hatch and the outreach program got the job of making office furniture for the firm. "This project involves cabinet making, veneering, inlay, and the experience of doing a real world job. We expect to deliver in April 2021."
In sharing their time and expertise, the teachers find they get as much out of the program as the students do. As their link to the outside world, they help the inmates grow in confidence.
"Learning in our program is a privilege for the inmates," Howard said. "Every time I am there they show their appreciation in many ways. They thank us. They show their pride in their work. They sometimes sell their work for the universally desired affirmation of cash from a buyer. It is a great feeling to help guys learn who might not have gotten any help before they were in prison."
Expanding to serve women
Leah Woods, a woodworker who teaches at the University of New Hampshire, joined the Furniture Masters in 2008. She learned about the outreach program at the men's prison the following year. "I thought it was fantastic," she said. Some time later, she said, she looked into whether similar programs were offered at the women's prison. But the only craft program she was made aware of was in embroidery. In 2018, when New Hampshire opened a new women's facility near the men's prison, the time seemed right. Woods, Lynn Szymanski, and NHFM Board Chair Mary McLaughlin started working on a plan.
"We got a tour in 2018 before the new prison opened, and the shop space was really not adequate," Woods said. But then in early 2020, plans got under way to build a new, dedicated shop. "I was going to teach my first class on March 18," Leah said. Then the pandemic hit, and everything—new shop included—was put on hold.
With in-person classes not possible, the woodworkers decided to try introducing inmates to the fundamentals of woodworking by making instructional DVDs. As of January 2021, Woods had just delivered her first DVD to the prison.
Woods is convinced of the value of having vocational programs of all types in prisons. It's just that woodworking is her particular area of expertise.
"The best contribution you can make to society is to do something you enjoy and that you are good at," she said. Learning a craft fosters community, "gets you out of your own head," and teaches you to focus, she said. And that's invaluable for a person who is incarcerated, but also for when they eventually rejoin the outside world. It's no small thing, she says, for a woman on her own to have a knowledge of how to use tools, even if it is only to fix things for herself.
With everything on hold until the pandemic eases up, Woods says she can't wait to teach her first class at the women's facility. "I feel like this is a good idea. I know it is."
—