Workshop tip: Marble or granite tile is a low-cost lapping plate
Floor tiles are inexpensive and give you a long, flat surface.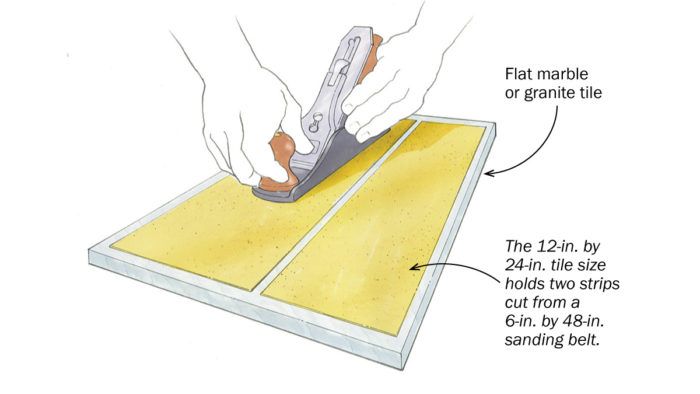 If you love hand tools like I do, you'll need several long, dead-flat surfaces for flattening blades, chisels, and the soles of your planes. Floor tiles are an affordable, effective solution, offering a longer surface than heavy granite slabs sold as lapping plates. Look for stores that sell tile by the piece, and go for the 12-in. by 24-in. size. But beware, not all tile is flat. Marble or granite tiles are very good for this purpose, while ceramic or porcelain tiles are not. For the abrasives, I use 6-in. by 48-in. sanding belts—cut in half to create 2-ft.-long strips—and I attach them with 3M Super 77 spray adhesive. I like the belts better than sandpaper rolls, which are often less than 3 in. wide.
—MICHAEL RICCO, Kalamazoo, Mich.
Illustrations by Dan Thornton
From Fine Woodworking issue #287