Go clean your blades!
Apart from reducing your cut quality, dirt and resin will dull your blades prematurely.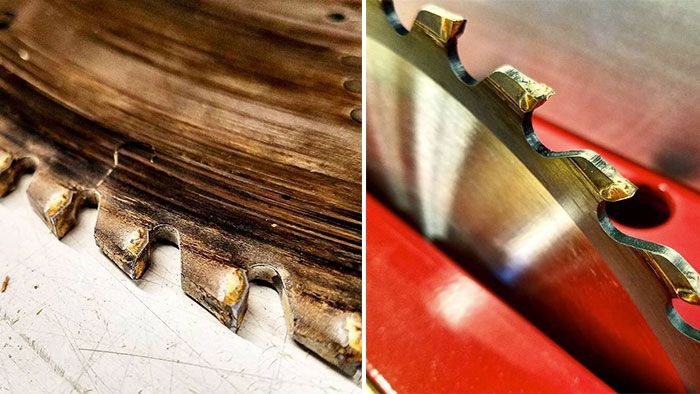 Woodworker's public service announcement:
Clean the gunk off of your blades!!
Seriously, go look at your blades, particularly the circular sawblades that you use most regularly. Chances are, the faces of the carbide cutting edges are caked with gunk. That gunk is the resin and pitch from the wood that has been heated by the cutting action. When you are passing stock across a spinning tool, no matter how sharp it is, there is some friction. The byproduct of that friction is heat. The heat in the cut can soften the resin and pitch in the dried wood, allowing it to flow out and onto your tool. As the tool rotates, the softened resin is carried out of the cut by the action of the blade or bit. Some of it gets slung off the spinning tool by centrifugal force. What remains on the face of the tool cools in the open air and hardens, forming a solid layer.
As the resin builds up, it interferes with the cutting action. The layer of resin will contact the work first and tear through the fibers ahead of the cutting edge. Naturally this leaves a poor quality cut because you're asking the saw to cut away the resin from its own teeth before cutting the wood. It gets worse than that, though. With a layer of hardened resin on the face of the carbide, the cutting action is more difficult, with the saw trying to force both the carbide and the hardened resin through the cut.  This action generates more friction and thereby more heat, which softens more resin, which is deposited on the face of the carbide, increasing the blunting effect. If left unchecked the resin will build up faster and faster.
Apart from the obvious downside of reducing the cut quality, it will dull the saw faster by asking more of the already overworked tooling, shortening the time between sharpening.
So don't wait! Clean your blades and get back to work.
---