Pine(ing) for perfection
Save the walnut and cherry for blanket chests and other fine furniture projects that will end up in the house; don't waste them on a shop project.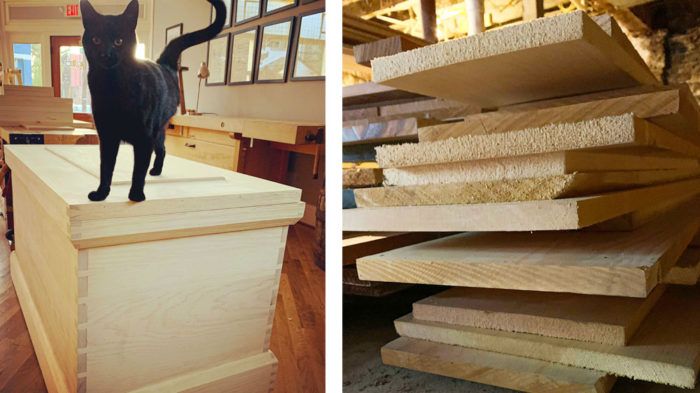 Before almost every tool chest class that I teach in our shop, at least one student will contact me to ask if they can prep their own wood, because they want to use walnut or cherry or purpleheart for their chest. Worse, they'll ask me to prep walnut, cherry, or purpleheart for them. The answer to both of those questions is no. In our shop, you'll build a pine chest, and you'll like it. (I promise.)
My preferences are sugar pine (Pinus lambertiana) from the West or Eastern white pine (Pinus strobus) from the Northeast. (I prefer the sugar pine because in my experience, it has fewer knots to work around, but I'm happy with either.) Last year, I had no trouble in our middle-of-the-country shop getting both of these woods from opposite coasts; a local commercial supplier carries them. Both species grow tall, straight, and wide, and are incredibly lightweight. And they certainly cost less per board foot than walnut, cherry, or purpleheart.
You might think the light weight is a mark against them, but it's one of their primary benefits. These pines are plenty strong enough for a tool chest (and for much of this country's vernacular furniture), and the tools add quite enough weight to a chest already. And while the weight isn't much of a factor on a full-size English tool chest (you rarely have to pick it up and when you do, you'll need help whether it's full or not), it sure is nice for a mobile container such as a Dutch tool chest. I'm not particularly strong and I can pick up my fully loaded pine Dutch chest and get it into the back seat of my car.
When I'm teaching away from home, I'll beg the school to bring in one of my two pine favorites; almost invariably, I end up with poplar.
I get it – poplar is available almost everywhere in the United States for a relatively low price, and it does indeed come in wide, straight boards. But poplar is not pine. I cannot lift a fully loaded poplar Dutch chest; it really does make a difference.
But beyond the weight, there are reasons to love this wood that is too often relegated to secondary uses. It is a joy to work with hand tools of all sorts, and dovetailing it will make you feel like a dovetailing deity. Pine's substantial "mash factor" means you can force together joints that are technically too tight, (usually) without them splitting.
And you can dovetail a lot faster in pine than in poplar. I've compared student speed in classes at our shop and on the road. For a Dutch chest with its eight to 10 tails, poplar adds about half a day; for a full-size English tool chest (with 28 or more tails on the carcase alone), it adds at least a full day. (Granted, you do have to sharpen your chisels a bit more often to get clean cuts on the pine – but if you don't let them get too dull, that takes only a few minutes a pop.)
You'll find pine used in a lot of antique vernacular work (mule chests, six-board chests, and the like) and I know some contemporary chairmakers prefer it for seat material. And I like it for bookcases, step stools…many things.
Its only real ding is that, well, it dings easily.* "I generally use pine for my traditional chairs, unless they are for public seating," writes chairmaker Peter Galbert. "Then I use poplar because it is a bit more resistant to dents and scratches" (Chairmaker's Notebook, Lost Art Press, 2015).
Some makers object to pine because it doesn't take a stain well; it often turns into a blotchy mess. But it can look gorgeous with the right finish: paint, or a coat or two of shellac and a little time (think pumpkin pine).
I've also heard the complaint that pine moves too much and/or cups too readily. I think that's because it shows up at the lumberyard a lot wetter than do most hardwoods. All woods move the most as they're losing those last few points of moisture – so people think pine just warps all the time. It doesn't, when properly dried and at equilibrium. In fact, once dry, it's stable enough to be used as a veneer substrate.
So save the walnut and cherry for blanket chests and other fine furniture projects that will end up in the house; don't waste it on a shop project. And don't be afraid to build furniture pieces with pine, either – especially if you're just getting into hand tools. (But go ahead and use the purpleheart in the shop – just not for a tool chest (I hear it makes sturdy jigs and fixtures).)
* The Janka-scale hardness of both my preferred pines is 380 lbf. For comparison, poplar is 540 lbf., and my favorite native hardwoods, black cherry and black walnut, are 950 lbf. and 1,010 lbf., respectively. Purpleheart's is 1,860 lbf.