Workshop Tip: Painter's tape helps with dovetail transfer
Three layers of tape creates a shallow rabbet to register against.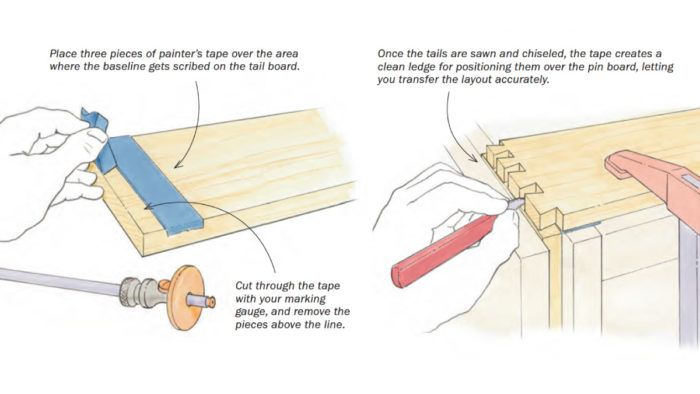 When hand-cutting dovetails, I used to cut a shallow rabbet on the back side of the tail board to help me register it accurately on the pin board when transferring the layout. Now I use a few layers of blue tape to serve the same function. It works whether you cut tails first or pins.
Before scoring the baseline with my marking gauge, I firmly apply three strips of blue tape on the back side of the board, right where the line will go. After cutting through it—and cutting slightly into the wood as usual—I just peel away the upper portion of the tape, leaving a nice, clean step. Then, after sawing and chiseling the tails, I use that tape "rabbet" to register the tail board perfectly on its mate, and transfer the layout with a marking knife as usual.
Click here to enlarge the illustration.
—BILL ADAMS, Seattle, Wash.
Illustrations by Dan Thornton
From Fine Woodworking issue #285