The decorative carvings of Kristina Madsen
Kristina Madsen gets her carving inspiration from textiles, nature, tradition, and some amazing and distinguished mentors. See the results and get an inside view of the process.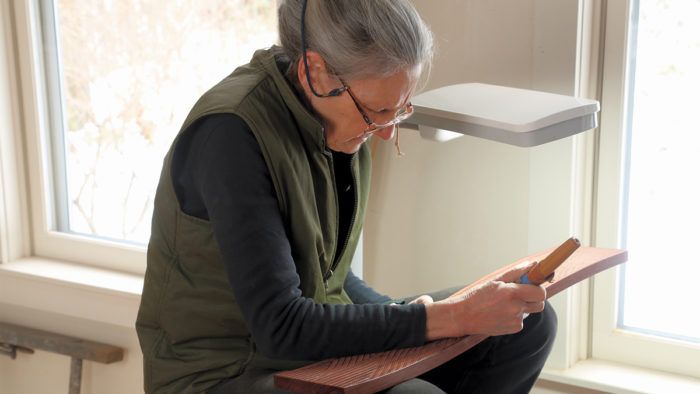 Synopsis: Where does carver Kristina Madsen get the inspiration for her varied and detailed carvings? From textiles, nature, tradition, and some amazing and distinguished mentors. See the results and get an inside view of the process.
---
A new carving pattern never just pops into my head. A vague and general impression floats around while pages of my well-worn library offer small suggestions. I leaf through my collection of old sample boards and then leaf through them again.
Textiles are my primary source of inspiration. The design components of these woven, dyed, and printed patterns—their layouts, their combinations of motifs and colors—are a vast and rich material resource. All types of patterns intrigue me: repetitive, non-repetitive, monochromatic, polychromatic, representational, abstract. I move from one to another as furniture form and whim dictate.
The patterns I design are usually multi-layered, with a foreground, a background, and often a middle ground. Once the combination of marks has been worked out on samples, I fully develop the foreground pattern on paper and transfer it to the furniture surface. After this primary pattern has been carved, I cut the secondary and infill patterns freehand.
New projects come about in different ways. Sometimes I have a piece of furniture in mind and want to design a complementary pattern for it. Sometimes I have a particular type of pattern that I want to try and I must dream up a furniture form to suit it. Either way, the furniture and the pattern are developed simultaneously. The work is rhythmic and highly focused, and I am completely absorbed by it for weeks or months at a time. Because so many of the marks are cut freehand, there is always an element of surprise in the finished surfaces; some unanticipated outcome that could not be seen in the smaller-scale sample boards. This is what keeps me interested, and slightly on edge, throughout the carving process. The full effect of the pattern only becomes evident after the two finish coats of oil/varnish have been applied and the light catches the facets.
Beyond the influence of my distinguished mentors, my work also draws from a much older and broader tradition. Decorative pattern is universal. Abundant in all its complexities within the natural world, its use has been adopted throughout time and by all cultures to enliven and visually enhance plain surfaces. As I seek to capture light in the facets of my carvings, I am a link in this ever-lengthening chain of tradition, and I hope that my combinations of furniture and pattern will, in their turn, inspire and energize others as the lives and work of my predecessors have inspired and energized me.
The Natural Look
The intaglio carving technique that has become a signature of Madsen's work is characteristic of Oceania. She was first introduced to the carvings of this region through the Field Museum catalog, The Fuller Collection of Pacific Artifacts by R and M Force. Captivated by the intricate, faceted patterns that covered these traditional objects, Madsen began incorporating more texture and patterns into her furniture. Carving on clear-finished solid wood is the most straightforward of Madsen's techniques. After bringing a sample board or piece of furniture to a finished state, which means a first sealer coat of 2 parts oil to 1 part varnish, then four to five coats of a 50/50 oil/varnish mix, Madsen carves the pattern. Then she applies two light finish coats of the oil/varnish mix.
Kristina Madsen creates furniture and carvings in Massachusetts.
From Fine Woodworking #284
For the full article, download the PDF below:
---
View PDF