Leslie Webb: Talent and determination
Learn about the drive and talent of a maker whose unique take on Mid-Century Modern is highlighted by subtle play with patterns, textures, and repetition.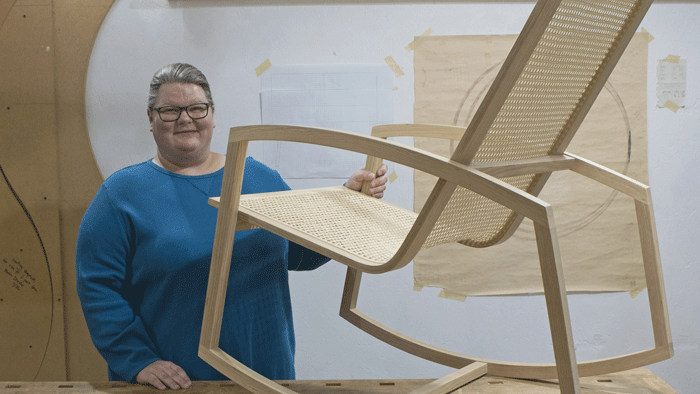 The first time Leslie Webb can remember getting completely lost in her work was in a fine arts class in college. "I remember painting for hours and having no concept of time passing," she said. "It was exhilarating."
Realizing she was wasting her parents' money on a liberal arts degree, she took a break from school, working as a nanny to pay the bills, and taking some time to think. At breakfast one day with the family, Webb picked up a catalog of handmade hardwood furniture from Thos. Moser and was blown away. "I thought it would be really cool to build furniture because it's useful but you could also make it beautiful," she said.
As it turned out, the father of the family was a painter who made his own frames. He was happy to share his basic woodworking skills, and Leslie started pitching in in the woodshop. "To say that I chose furniture making as a career is not quite accurate," she said. "It chose me. One of the clearest memories I have is cutting a piece of wood for the very first time. I wasn't making anything terribly exciting—a shipping crate for a painting—I felt this nervous excitement as the sawblade sank into a 2×4."
Soon Webb was making basic furniture in the shop, staying on as a nanny as she spent two years trying to learn the craft on her own.
Full-time training
To shorten her learning curve, Webb entered the nine-month furniture intensive at Center for Furniture Craftsmanship, in Rockport, Maine, choosing CFC because she knew students were encouraged to design their own work.
"Getting instruction from high-quality teachers is the fastest way to get really skilled," Webb said. "It's wonderful to be in an environment where everyone is interested in making quality work."
Webb especially liked how one lead teacher guided her through the program while CFC also brought in a new co-teacher for every project. "You see there isn't really one way to do something in woodworking," she said. "And you get to see really skilled people do harder stuff."
Partly because her parents wanted her to finish her degree, Webb headed next to Sheridan College in Ontario, Canada. "It was a compromise, and I made the best of it," she said.
She entered the Craft and Design department at Sheridan, following the wood/furniture track.  "it was more time to develop, and I got to build whatever I wanted," she said. "I knew it was an opportunity to stretch myself—one that I wouldn't get in the real world."
A former Sheridan alum was the next step in Webb's determined path to full-time furniture making. Hearing that Fine Woodworking contributing editor Michael Fortune lived nearby in Lakefield, and sometimes took summer interns, she cold-called him during the spring semester before graduation.
After sending Fortune photos of her work and spending a day at his shop, Webb was invited to spend the summer of 2007 there, where she worked side-by-side with the renowned furniture maker to execute his commissions. "It was really helpful to see furniture making in the real world, which was so different than it was in school," she said.
"I asked him every question that popped into my head that summer, trying to extract as much info as I could," Webb said. "He talked not only about technical stuff but also about dealing with clients, presenting ideas, figuring out budgets—really practical info that gets lost in the educational system—like never presenting an idea to a client that you don't want to make, and you don't have to take everything that comes across your path. It all stayed with me."
Fortune remembers Webb's time at his shop with fondness. "Leslie was a joy to work alongside in my studio," he said. "She possesses rare attributes—she's calm yet personally driven to explore what furniture can be."
As for Webb's own work in years that followed, Fortune was even more effusive in his praise. "Leslie is an incredibly talented, focused designer and craftsperson," he said. "Every form, line, negative space, and detail is considered and beautifully resolved. While her work epitomizes the studio furniture movement, some of her designs could and should be considered for batch manufacture so that more people can live with them."
The path turns rocky
After the 2007 internship with Fortune, Webb felt ready to take the plunge as a full-time pro, heading to Philadelphia to set up shop. "I had some friends there," she said. "It was near a lot of major markets without being as expensive as living in those places."
Webb set up shop in a co-op space in a big warehouse. Almost immediately, the economy imploded. "It was just bad timing for a young furniture maker," she said. "Cabinet shops were going out of business overnight. If you had money you could have cleaned up on buying equipment."
No one was sure how long the downturn would last, so Webb hung on for another year in Philly, eventually giving up her apartment and living in her shop space for six months. "The landlord let me wall in an area and call it "my office," she said, "but he knew what I was doing."
When it became clear that the economy wasn't going to make a major recovery anytime soon, Webb moved back to her native Texas to be closer to family and restart her career.
Thanks to the valuable contacts she made at CFC, she met a hobbyist with a big shop who was only too happy to share it with a working pro. The two became close friends, and she worked there for two years on a growing list of commissions. At the same time, Webb took another nanny job to earn extra cash.
By 2011 she was ready to go full time into furniture making again, and she did it by buying a house with a two-car garage in Georgetown, Texas, about 30 minutes north of Austin. "The shop is small but workable for a pro," she says. "I've got just one mortgage and no rent to pay."
Advice on design and finding clients
Webb's work is a personal take on Mid-Century Modern, distinguished by her subtle play with patterns, texture, and repetition. "Everyone wants to approach design as a mythical thing that no one really understands," she said. "But design can be taught and figured out."
Webb learned the basics of 2D and 3D design in college—the principles of line, rhythm, proportion, texture, and more, which are universal in art—and said that others can do the same without attending a four-year program. She encourages woodworkers to take advantage of the affordable courses in 2D and 3D design offered at community colleges. Similar courses are also offered online.
Webb follows an analytical approach to inspiration, in an effort to capture the essence of objects that she admires. "I try to figure out what I like about those things, so I'm not just copying or ripping them off," she said. "Sometimes it's hard to put into words, but over time you'll see the same things come up again and again, whether it's proportions, textures, or whatever. It's what you are drawn to, and you'll find it across very different design movements."
Once you know the elements and feelings you're responding to, you can pursue them in your own designs, Webb said. For any particular piece, her process starts simply, with constraints on size and function.  "You're not starting with a blank slate," she said. "You can't make a dining table 40 in. tall or 5 ft. wide."
Next Webb begins to play with elements she is interested in, combining wood scraps in some cases to try out ideas. "Many times, I'm not trying to make anything specific right away, but it might become a detail—like a door panel," she said.
As for finding clients and selling work, she said, "For me, doing juried shows and gallery exhibitions is what works. Even though they're a big effort and have their own headaches—like standing and talking to customers for hours—I can't imagine not doing it."
Webb has learned how to make things easier for herself on the road. "In the early days I took a ton to shows," she said. Now she brings only things she can move herself without help, realizing that those items show the style and quality of work, and customers can see larger pieces online. "It took me a while to figure that out," she said.
New venture: High-end hand tools
Webb first heard about HNT Gordon hand tools from her lead instructor at CFC, David Upfill Brown, who hails from Australia where the tools are made. After she ordered a few, she was "blown away by how good they are," she said. "I couldn't believe no one in the U.S. carried them. I started talking to other furniture makers about them, but people didn't want to order from Australia."
Webb wondered if she could become the U.S. distributor for HNT Gordon, so like she did with Michael Fortune many years back, she emailed owner and founder Terry Gordon directly one day with her proposition.
Gordon agreed, and Webb started her own small tool distribution business, Heartwood Tools. Then she began reaching out to other small, high-quality hand-tool makers who might be looking to enter a wholesale arrangement, to avoid the hassle of direct retail. So far she has recruited
two, offering a dovetail saw and marking gauge from Florip Toolworks  in Michigan, and a plane hammer and marking and measuring tools from Sterling Tool Works  in Alabama.
Toolmakers enjoy the deal because they can focus more attention on what they love—making tools—and sell them in big batches at a time to Webb. She is enjoying the new business too, diversifying her income and delivering small-batch hand tools with no wait time to customers who love them as much as she does.
To would-be pros looking to follow in her footsteps, Webb highly recommends starting at a good school. "Those programs are pretty intense," she said. "So you can find out if you really love it before you invest in equipment, a shop, setting up a website, doing shows, and so on, and then realize you don't want to do it."
"Being a pro furniture maker is not an easy way to make a living, no matter how talented you are, but it's a great way to make a life," she said.
Photos courtesy Leslie Webb, except where noted.