How to Make Pierced Panels
Learn how Brian Newell creates his pieced panels using precision scrollsaw work and delicate carving.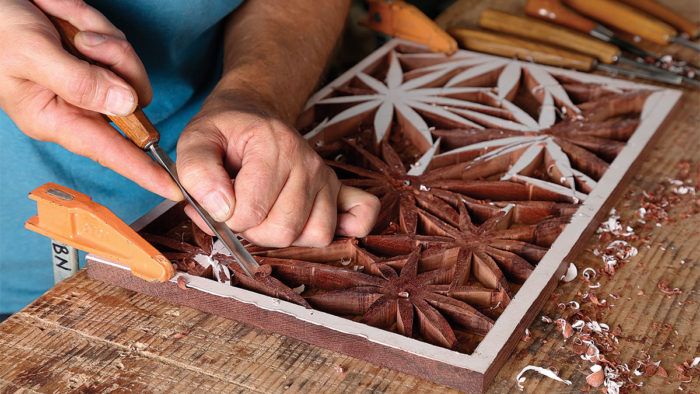 Synopsis: Learn how to carve a pierced panel with Brain Newell. Because the background is removed with a scrollsaw, his panels allow three-dimensional carving and let the light pass through. Here he demonstrates the carving involved in three types of panel: a solid, flat panel; a solid, curved panel, and a laminated curved panel.
---
Wall-mounted cabinets did not figure prominently in the household of my Michigan childhood. But an introduction to the genre came through the books of James Krenov. By the end of my one-year stay at College of the Redwoods (now The Krenov School), I had made several, and the form has become a constant in my woodworking. Like most of the cabinets I made at the school and in my subsequent 30 years of making, they held very little. More akin to sculpture than furniture, in a pinch they could contain a small collection of teacups or a handful of hard candies. For that reason, I found them irresistible and perfect.
My first wall-mounted cabinets were vertical affairs that sported small pierce-carved panels. These latest horizontal cabinets also have pierce-carved panels. In fact, there's very little unadulterated surface, mostly just see-through, chisel-enhanced wood and a flat area which may generously be called a shelf. I often design cabinets that curve away from the wall letting light pass behind them. Light passes through the carved front and back panel, too, and the difference between them makes for an interesting play from different viewpoints.
Each of the cabinets in this article features a slightly different approach to piercing the panel, but they share many techniques.
A general look at material, tools, sawing, and carving
Some of the best woods to carve are Swiss pearwood and walnut. Walnut is forgiving and easy to carve. The secret advantage to Swiss pear is that it does not split easily, and therefore it lends itself perfectly to the short grain that any pierce-carved panel produces. When I want a darker, more exotic wood, I often use ebony or rosewood, the former being extremely hard but quite strong, the latter being extremely hard and prone to splitting. Beautiful woods, but not user friendly.
From Fine Woodworking #282
To view the entire article, please click the View PDF button below.
---
View PDF