Tool review: EZtension Bandsaw Tension Gauge
Rollie Johnon reviews a clever bandsaw tension gauge.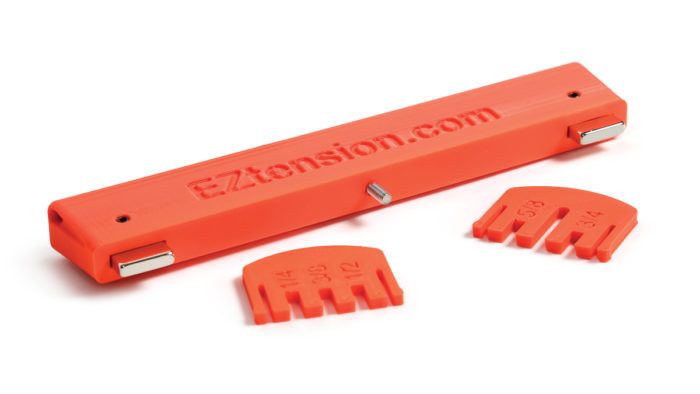 The EZtension gauge is a clever little tool that solves the recurring problem of setting the tension on a bandsaw blade. The gauge is simple. It has a plastic beam that has an adjustable screw in the middle of one edge and magnets toward either end. There is also a slot to hold a plastic setup gauge and a holder for a hex key used to adjust the screw.
To use the tool, adjust the screw to the setting appropriate for your blade's width, then place the EZtension on the side of a bandsaw blade that is tracked and ready to tension. Increase tension on the blade until one of the magnets releases from the blade. It's that simple.
The magnets are slightly loose in their sockets, so a bit of rotation is possible to allow the magnets to sit flat on the blade as the screw slightly bows the blade. The small, comb-like setup gauges provide screw settings for 1⁄4-in., 3⁄8-in., 1⁄2-in., 5⁄8-in., and 3⁄4-in. blades.
I found the EZtension to be repeatably accurate. My only complaint is that there are two gauges for setting the screw extension but only one pocket on the tool*. A little gauge, although brightly colored, can easily disappear in a cluttered shop; a second pocket would be helpful.
—R.J.
From Fine Woodworking #281
Photos: Roland Johnson
*The EZTension is now shipped with two slots to store the gauges in.