Get Started with Japanese Joinery
Andrew Hunter demonstrates how to cut a scarf joint using hand tools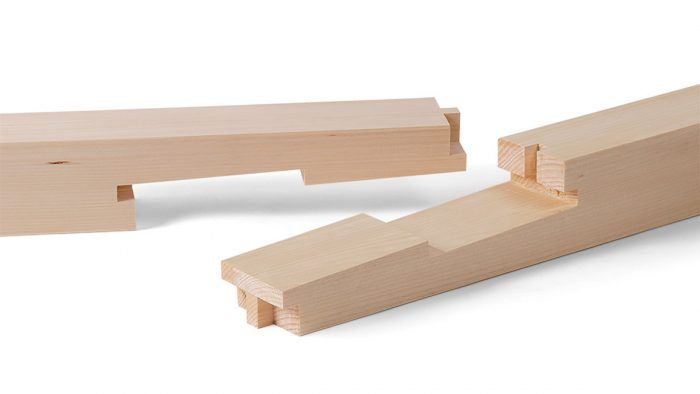 Synopsis: The kanawa tsugi, translated as a half-blind tenoned, dadoed, and rabbeted scarf joint, is used to splice two pieces of wood together end to end. It's a strong, interesting joint that Andrew Hunter cuts by hand. The key to this joint is accurate layout, and the key to accurate layout is a story stick that contains all the dimensions you need.
---
Traditional Japanese joinery, with its intricacy, precision, and strength, is awe-inspiring, and very enticing to any woodworker. But learning how to cut these joints can be a challenge regardless of your skill level. Layout doesn't rely on straight and square reference faces, and determining the order in which to cut things can be tricky.
The joint in this article, the kanawa tsugi, translated as a half-blind tenoned, dadoed, and rabbeted scarf joint, is an excellent place to start. Used in Japan for centuries to splice two members together end to end, it creates a single longer one capable of sustaining multidirectional forces.
Layout is the hardest and most important part of the joint. Instead of working off two straight and square reference faces adjacent to each other, everything works off a centerline. You'll also use an ingenious story stick that, with five layout lines and a precise width, contains the keys to the whole joint.
I prefer to cut this joint by hand, as I've found no advantage in using power tools. But don't feel limited to using Japanese tools, as I do. This scarf joint can just as well be made with Western tools and work-holding methods.
Story stick tells the whole tale
Many of the dimensions in this joint are 5/8 in., especially around the T-notches, so my story stick is 5/8 in. wide and has a 5/8-in. square in its middle. It also has marks showing the total length of the joint, in this case 13 in., so make the story stick slightly longer than the joint. To make the joint shown here, I used stock that was 3 1/2 in. square, but don't feel limited to this. The members can certainly go bigger—in traditional Japanese house construction, posts are often about 5 in. square—in which case 5/8 in. remains a viable standard. In fact, this dimension is the width of a Japanese framing square, which is used in Japan to lay out this joint. If you use smaller stock, though, I recommend reducing this dimension. At 3 in. square, drop to 1/2 in.; at 2 in. square, try 1/2 in. or 3/8 in.— whichever looks better to your eye. The size of the stock dictates the joint's length, too, which is generally three to four times the width of the workpiece.
From Fine Woodworking #278
To view the entire article, please click the View PDF button below.
View PDF