Spooning up woodworking lessons
Vic Tesolin argues that even if you're not into spoon carving, there are many lessons that carving a spoon can teach any woodworker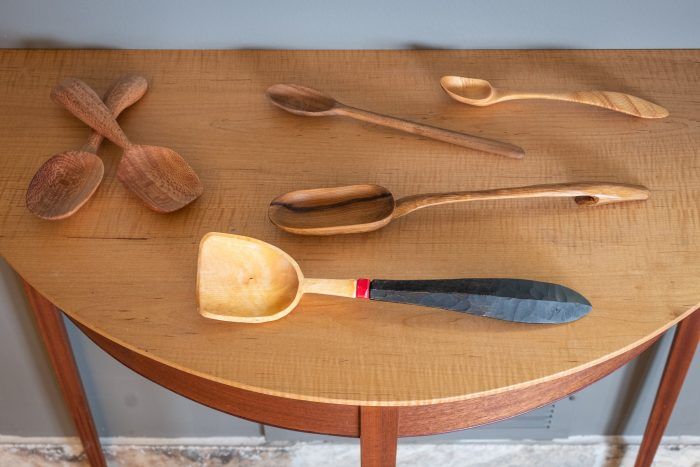 As far as I'm concerned, any type of woodworking is good woodworking. Not all of it may be my cup of tea but in the end, I get stoked whenever I see someone working with their hands and being creative. The truth is, we all used to be creative. We all used to be artists, proven by the countless pieces of artwork featured on the fridge, curated by our parents during the multi-year vernissage that was childhood. Somewhere along the way we forgot that we were creative (thanks, modern school system).
You'd have to be living under a rock not to have noticed the growing popularity of spoon carving. It's all over Instagram (the parents' refrigerator of our time). I probably follow a dozen or so spoon carvers myself as well as the various toolmakers associated with the craft. Spoon carving is not my bag—I enjoy doing it but it's not my focus. There are so many corners of woodworking you can play in that it's easy to spread your focus too thin and not really get good at any of it.
Lately I have been hearing disparaging comments about spoon carving.
"How many spoons does a person need?"
"Just what Instagram needs—another spoon carver."
You may not be into spoon carving but the reality is that there are many lessons this craft can teach. First and foremost, spoon carving teaches you the importance of sharp tools. Like every woodworking discipline, if your carving tools are not sharpened correctly, you won't have the best results. Honing and polishing straight and curved knives is not an easy task, yet all woodworkers can benefit from learning how. Even if you don't carve, there are likely other knives in your house that could benefit from this skill.
Learning to read grain direction is difficult for many neophyte woodworkers. I spend many hours teaching the newly initiated and believe me, the struggle is real. I've come up with several methods to explain how to figure out grain direction, but in the end cutting the wood is the true test. Grain direction is a critical understanding when carving spoons, or any type of carving really. You will learn more about evaluating grain direction with a knife and piece of wood in your hands than listening to me blather on about it.
The spoon carver needs a relatively small tool kit to practice the craft. A couple of inexpensive knives and some sharpening gear is all you need to get started. This makes it an ideal hobby for traveling or simply sitting outdoors and whittling away. Many practitioners even do it in their living rooms because it's so easy to clean up after.
So, let's take it easy on people. Not everyone has the ability or desire to have a shop full of tools to be creative. All of us deserve to flex our creativity and have some fun making objects with our hands. Negative comments and disparaging words only serve to mimic what our school system has done for years—beating the creativity out of us. Just because there is a "comment" button doesn't mean you should, especially if you have nothing productive or encouraging to say. There is enough negativity in our world; let's not tarnish our woodworking with it.
In order to understand, you must do. – V
| | |
| --- | --- |
| | |
| | |
| | |