Workshop Tip: Dial-Indicator Base Delivers Safer Crosscuts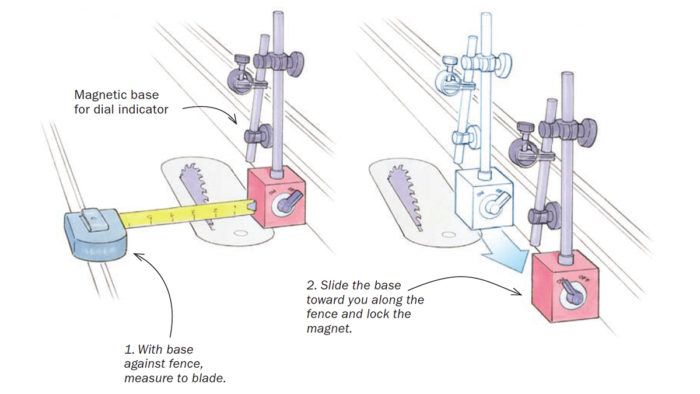 Many years ago, Norm Abram taught me never to use the rip fence as a stop when crosscutting with a miter gauge or sled, as loose cutoffs will be trapped between the fence and blade, turning them into potential projectiles.
Instead, I learned to clamp a block to the fence, ahead of the blade, so the workpiece can bump up against it but then be free to skitter away safely once the cut is made.
Here's the easiest way I know to add a separate stop block to the fence. I use a magnetic base, the type that's attached to a dial indicator. I bought mine at Harbor Freight for $15. Place it against the rip fence with the magnet turned off, and move the fence and base until you have the desired distance between base and blade.
Now lock the fence there and slide the base a few inches toward the front of the saw. Turn on the magnet and you're good to go. In fact, you can pull away the rip fence entirely to give the cutoff more room to move and make it easier to flick away. To use your magnetic stop, bump the workpiece against it and then push forward to make the cut.
—RICHARD THORNTON, Bacliff, Texas
Illustrations by Dan Thornton
From Fine Woodworking issue #277