The Doric Order – Classic Architecture in SketchUp
Rather than simply read a book on classical architecture, Tim Killen set out to create a Classical Order in SketchUp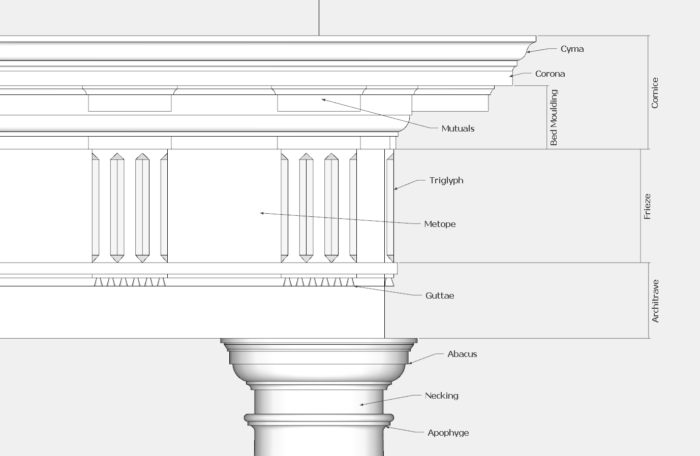 Following our trip to Greece and my constructing an Ancient Egyptian Stool (I blogged on this earlier), I looked for more information on ancient furniture design and cabinetmakers. I acquired a book "Egyptian Woodworking and Furniture" by Geoffrey Killen (no relation), and was surprised to learn that ancient cabinetmakers were fluent in Classical Architecture and applied these principals to furniture design. This reminded me of Master Cabinetmakers at Colonial Williamsburg describing how colonial and period furniture cabinetmakers were also knowledgeable in and applied classic architecture.
I wanted to know more about classical architecture, so I bought another book, "The Classical Orders of Architecture" by Robert Chitham. Rather than simply read the book, I set out to create a Classical Order in SketchUp. I picked one of the simpler examples, the Doric Order. Here's the results……
Here is that same Doric Order but with fluted columns.
I began the modeling by importing scans of drawings from the Chitham book. Below is one of those drawings in SketchUp. You can see the use of Guidelines to help with the traced over shapes and lines in red. The scales are metric so there was no issue working with fractions. Chitham set the bottom diameter of the Column Shaft at 1 meter. The dimensions of all the other parts of the order are multiples or fractions of this reference shaft diameter.
On this Front View in Orthographic camera, I've shown the major three parts of the Order – Entablature, Column, and Pedestal. These three main parts are divided in smaller components shown to the left.
In this view, I'm showing many of the key dimensional proportions of the Order. You can readily see how the sizing and spacing of components are related to the reference Shaft diameter of 1 meter.
In this view, I have a close-up of the Entablature. It is a complicated structure with many parts as shown by the text. The main three parts of the Entablature are the Cornice, Frieze, and Architrave.
Looking upward to the Soffit, you can see the sunken Square Panels, and the Mutuals (square boxes filled with round pegs).
In the Pedestal, I've identified some of the moldings.
This SketchUp work did not involve complex operations or tools, however, it was tedious and time-consuming work to properly size and position all the components. Nevertheless, I now have much more knowledge of Classical Architecture. I'm anxious to use some of these conventions and proportions in my future furniture projects.
Here is a video of the SketchUp…….
Tim
KillenWOOD.com