Innovative workbenches are easy to build
The truth is you don't need a 200-lb. European workbench to do fine work. You just need a solid work surface that won't walk around the shop, and an efficient way to clamp workpieces to it.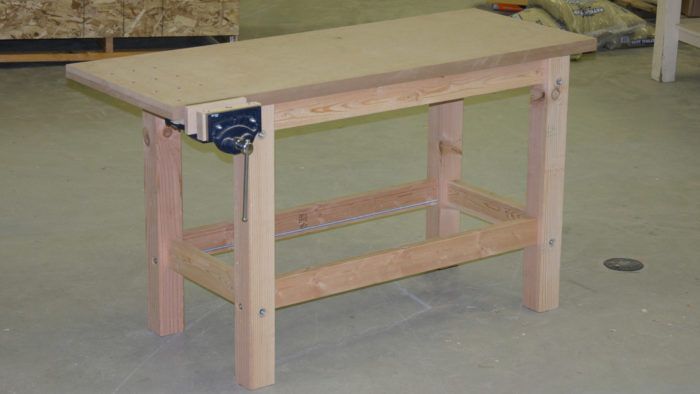 Workbenches are a Catch-22: You won't get far without a solid work surface of some kind, equipped with a vise made for woodworking. But most workbench plans are so complicated you need a workbench to build them! That's not to mention the expensive hardwood and the large arsenal of tools and skills many bench plans require.
The truth is you don't need a 200-lb. European workbench to do fine work. You just need a solid work surface that won't walk around the shop, and an efficient way to clamp workpieces to it. There are lots of simple ways to make this happen, some so effective you might never build that big Swiss-Army bench you saw in Fine Woodworking magazine. Here's a sampling of practical workbenches you can build with a small set of tools and skills.
Build a solid workbench with three tools
Roughly 25 years ago now, the bench pictured above was the first workbench I built. It's so solid that I still have mine, though I've since added a butcher-block top with a twin-screw vise on one end. The free project plan has all the details you need, and there is even an old video available on building the base.
Because the base is constructed with common 2x4s and 4x4s, joined with long threaded rods, all available at any home center, all you need to make is some simple crosscuts, rout a few long slots, and drill a few holes to put the whole thing together. And if the heavy base ever starts to wobble, you can just tighten up the nuts and bolts and make it rock-solid again.
As for the top, it's just two layers of MDF, cut with a circ saw from a single 4×8 sheet and glued together to form a very flat, solid surface. With a metal woodworking vise bolted on and a few dog holes drilled, you have everything you need to start woodworking for real.
Heavy-duty bench is a plywood wonder
The genius of this workbench, designed by Cecil Braeden and still offered for free on the old Start Woodworking website (click the download button and you'll get the whole article from FWW #181) is how he combines layers of plywood to build up thick legs and rails, and create big interlocking mortises and tenons without the usual tools and fuss.
Use common shop-grade birch plywood and you can craft this whole bench for under $300, including the vise. While you'll need a tablesaw to make it, what you get in return is a bench that's even heavier and more solid than the one I featured first, with two built-in storage shelves. Better yet, you get a full how-to article on building this one.
Turn a reclaimed cabinet into a rolling workstation
This is the easiest workbench I know of, more of a rolling workstation actually, made by attaching a solid top and bottom to a surplus kitchen cabinet. I came up with it for my 2017 book, Build Stuff with Wood, a project-by-project guide for true beginners, and you'll find a full how-to guide in this free blog post.
Browsing through my local Habitat for Humanity ReStore, a great source of reclaimed building materials at rock-bottom prices, I had a brainstorm in the cabinetry aisle. Here was a way to start readers out with a mobile workstation that could fit in the smallest apartment, with enough space to hold all five portable power tools used in the book: circ saw, cordless drill, router, jigsaw, and miter saw. Roll it out of the corner, lock the casters, and start working. Clean up, stow your tools, and roll it out of the way.
Sure you could build your own cabinet to start, but why not save one from the landfill and save yourself serious time and money in the meantime?  Even if you already have a workbench, you'll enjoy this rolling base for other tools, like a miter saw or planer for example, somewhat taller than workbench height, for safer power-tool use. I often use it as a routing station for that same reason.
Innovative workbench stacks in the corner
This might be the most innovative workbench I've seen. Josh Finn made it by building two long, solid beams, which are clamped to two solid sawhorses, creating a knockdown bench that comes apart in a minute or so and stacks in one corner, freeing up floor space in his tight shop. Yet this revolutionary bench has all the functionality Josh needs to build world-class work.
Because the beams are square, you can clamp work to the top or sides for any common task, and the big bases are surprisingly solid below. On top he screwed down a layer of Homasote, which is soft and friendly to nearly finished projects and workpieces.
You'll need full access to see this article, but trust me, it's worth it. You can build this amazing workbench in less than a day, using a tablesaw and cordless drill, and it stacks for storage in the corner of your garage!