Marquetry is Inspired by Nature
Mark Bellonby's marquetry scenes reflect the views he sees every day ... and some he's only seen once in a lifetime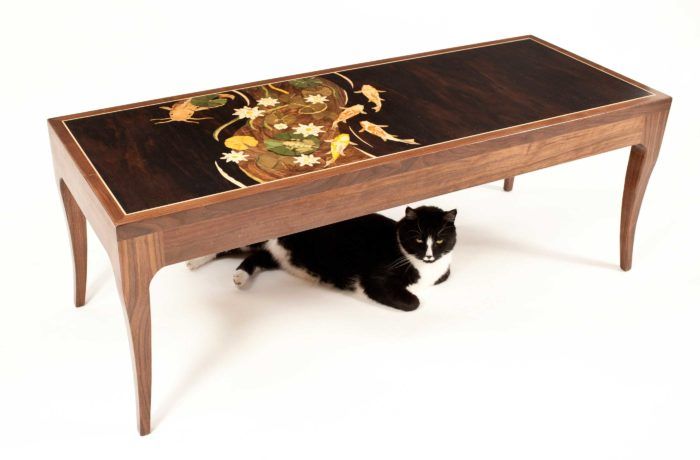 Inspiration can come from anywhere—a beautiful piece of furniture or art seen in a museum, an architectural shape seen on vacation, an image that's just clanking around in your brain. In the case of Virginia furniture maker and marquetry artist Mark Bellonby, inspiration is often as close as the view from his window.
If you've been a reader of Fine Woodworking for a while, you're already familiar with Mark's work. His shop was featured in issue #167 back in December 2004 ("A Shop Inspired by School Memories") and his work has appeared in the Gallery many times, most recently in issue #277. That piece, a curved-front cabinet, depicts a marquetry image of egrets inspired by a view of a local backwater. It's a common view for Mark and his wife, who live on the Potomac River in a perfect place for bird watching.
"Once, I saw over a dozen bald eagles in the trees along the shore," he says.  The egrets in the cabinet were spied in a backwater that locals call the "Gut," which is a sanctuary for egrets, kingfishers, and blue heron.
Mark has also gotten inspiration farther from home. His most recent project is a cabinet that shows a leopard lounging in a tree. "Last March my wife and I went on a safari trip to southern Africa," he says. "The animals and birds were awe-inspiring. One of the most majestic was the leopard."
The process he uses to turn this inspiration into marquetry may start with photos and other images, but that's just the spark. The rest is pure craftsmanship—designing and building the furniture and then crafting the marquetry that embellishes it.
Some of the local nature views that help inspire Mark's work.
For the egret cabinet, he began the marquetry by hand-sketching the egrets, and then drawing the picture on AutoCad, 2D drafting program. This allows transparent printouts that help Mark to select the right veneers.  The flat AutoCad drawing is imported into SketchUp, where it can be applied to the surface of the furniture and seen in 3d, and a library of different marquetry veneers that Mark has scanned in can be tried out to find the best result.
"A major advantage of AutoCad and SketchUp over hand drawing is the ability to scale 'blocks' and 'groups' and to reposition them," he says.
This flat layout is "cartoonish," and the computer printed design then needs to be refined with more hand-drawing. Once he is satisfied with the result, Mark works his magic with double-bevel marquetry. And that's a process that you have to be a true artist to describe (which I definitely am NOT.)