A Shop Inspired by School Memories
This well-lit workspace features an open floor plan organized for efficient workflow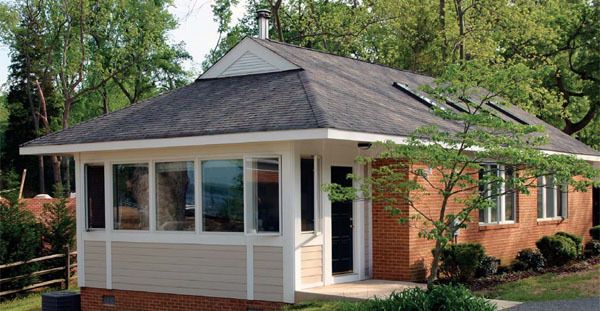 Synopsis: A fondly remembered, bright and airy school shop inspired this architect to design his own dream workspace. Huge windows and plenty of space dominate, but he also had practical goals: a smart, flexible floor plan, an office, separate work zones in the shop room, utility stations, and wood storage areas. Several floor plans illustrate how he achieves these intentions. Design your own dream workshop with his cues in mind.
From Fine Woodworking #167
My introduction to woodworking took place in a high-school arts building during the late 1960s. The building included a large, first-floor woodshop with a high ceiling and tall, Gothic windows that provided plenty of natural light and cross ventilation.
Space between machines and benches in the shop was plentiful, and the tools were stored in beautiful, enclosed oak cabinets. Eventually, I had a key to the building, and I sometimes would work until the early hours of the morning, completely lost in the craft of making furniture.
That bright and airy school shop became the standard against which all of my later shops were measured. For many years, I had little choice but to cope with workshops located in dark, dusty, and confined basements or garages. I hoped someday to have a workplace that offered the many advantages of that wonderful school shop.
Two years ago, I finally got the opportunity to design my own freestanding shop. The obvious deficiencies I'd put up with for so long made it easy to come up with a list of goals for the new space.
An architect by profession, I produced the design and drawings using a computer-aided design (CAD) system. The builder, Martin Jarvis, helped keep costs in line, and he was frequently consulted during the design process. He encouraged me to consider a simple building shape and to use standard windows and skylights. He also helped me find cost-effective materials, like the base-grade, strip-oak flooring I ended up using.
To allow room for machinery and work in process, it was most important for me to have a generous amount of floor space. High ceilings were a priority, and the floor plan had to be flexible to allow for rearranging machines.
Like my school shop, I wanted mine to be bright and airy, almost an extension of the outside. Evenly distributed natural light was going to be critical to the design, as well as excellent ventilation. That meant the shop had to have large windows and skylights, all located to provide maximum light and quick air changes. Several other design objectives also were important. I wanted to minimize noise from the air compressor and dust-collection system.
For the full article, download the PDF below.
View PDF