Tool News: Bridge City Tool Works Introduces Two New Hand Planes
For hundreds of years, hand planes have remained largely unchanged. John Economaki of Bridge City Tool Works has done something about that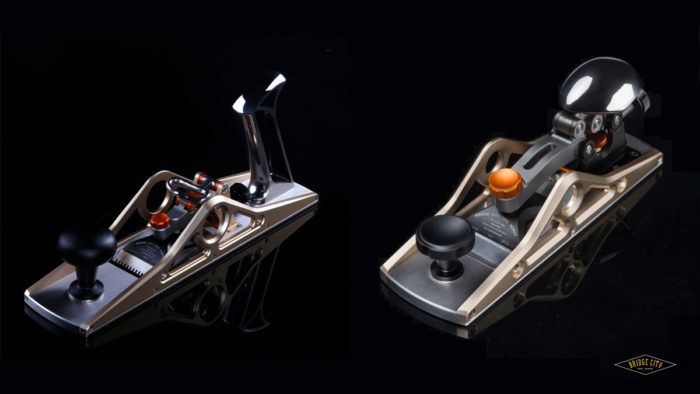 From Bridge City Tool Works:
---
Many in our industry regard John Economaki as the foremost designer of woodworking hand tools. So perhaps it's not surprising that an almost cult-like following surrounded his heirloom-quality hand tools manufactured in Portland, Oregon.
Last year, it was big news when, after 35 years of designing and manufacturing tools that were treasured and passed down through generations, John handed over the reins of Bridge City to his good friend and licensing partner, Jack Xu, CEO of Harvey Industries.
But John wasn't ready to walk off into the sunset. Innovation is part of John's DNA. He's far too busy designing tools that merge functionality and aesthetics for today's generation of woodworkers. And one result of that is the introduction of two new hand planes. The Dual Angle Block Plane (HP-9v2) and the Dual Angle Bench Plane (HP-12). You could say that Bridge City has re-invented the hand plane.
Bridge City has pioneered a new way to build hand planes that use an iron with dual edges to provide multiple grind angles. With the Dual Angle Block Plane, attack angles of 47°(for general purpose) and 42°(for end grain) are possible. The Dual Angle Bench Plane features both of those attack angles, plus 60°for tough grained woods and a scrub iron for quick cross grain flattening of wavy or difficult grained stock. Either way, you eliminate the need, space and cost of owning a low angle and regular block plane, essentials for any serious woodworker.
Perhaps the single most distinguishing feature of these new planes is their ability to add depth skids, turning your plane into a 2" (50.8mm) wide precision thickness plane. Bridge City is the only manufacturer that does that. It's entirely possible, and easy, to make multiple components with a thickness that does not vary by more than 0.003" (0.076mm).
The sides of both the HP-9v2 and HP-12 have been "skeletonized" to create a unique appearance that differs greatly from the traditional European designs. Just one of the many ergonomic features that makes these planes comfortable for hands of all sizes.
The Dual Angle Block Plane (HP-9v2) also features a guide fence that threads directly into the side of the plane and allows you to easily plane both square and 45° beveled edges. Inexperienced woodworkers, and individuals with disabilities, can achieve amazingly accurate results.
To learn more about the Bridge City Dual Angle Block Plane (HP-9v2) Dual Angle Bench Plane (HP-12), visit bridgecitytools.com.