Tool Review: Roller Stand Model PM-5093 by Bora
Support stand with multiple heads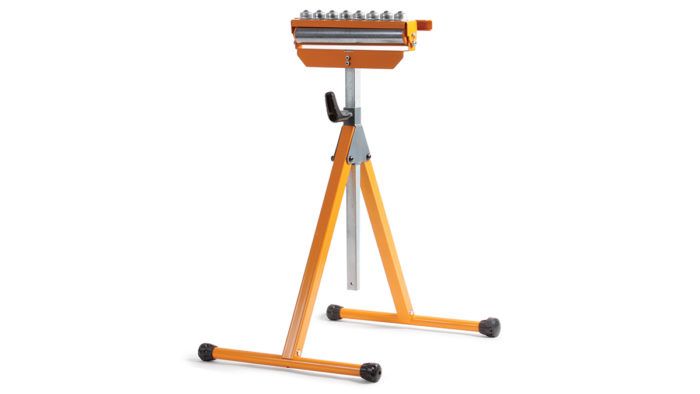 There are three tablesaws in my shop, one of which does not have an outfeed table. There is usually a roller stand behind this saw, but the stand is often moved out of the way to free up floor space. The base of the Bora Pedestal Stand is a good option for a space like this. It's not only sturdy but also folds up easily to move or store flat. It's easy to adjust. The center post is tapered, thick at the top to thin at the bottom, making locking super secure because of the wedging action, and making fine adjustments easy because the head doesn't quickly drop to its lowest setting when you loosen the knob, like on many other roller stands. Once I set the height, the head didn't move at all, which was perfect.
Before setting the height, though, you get to pick which of the three heads to use: the long roller, multidirectional ball bearings, or flat stationary support. Switching between the three was easy. You just lift and rotate the head, clicking it into place around two bolts. The solid roller worked great at the tablesaw for supporting large pieces of stock, and was especially useful when ripping plywood. The ball-bearing roller head was perfect for when I needed additional support at the bandsaw and router table, because the design allowed me to move the workpiece with ease in different directions. The stationary support is an added bonus.
—Ellen Kaspern builds furniture in Boston.
From Fine Woodworking #274