Tool Review: Mega Flush Trim Router Bits by Infinity
Infinity's Mega Flush Trim router bits are well-made, double-bearing bits with compression shearing cutters made of carbide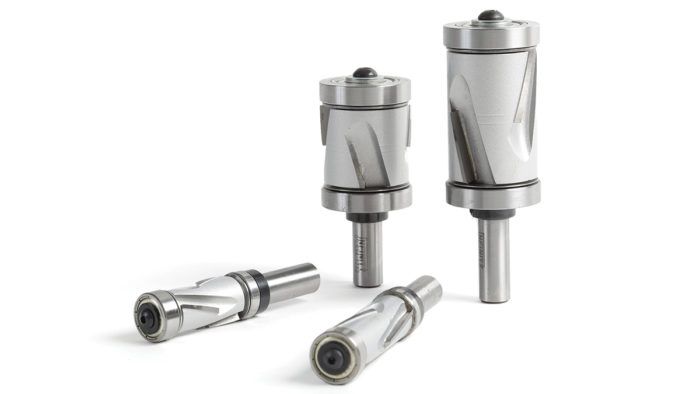 In the first professional shop I worked in, the older makers used a large-diameter, flush-trimming pattern bit that had carbide cutters bedded at shearing angles to rout all kinds of difficult woods. When I asked where to buy those, the response was "Oh, we had them custom made." Fast-forward 20-plus years and here on my bench is a set that looks very similar to that bit I wanted all those years ago.
Infinity's Mega Flush Trim router bits are well-made, double-bearing bits with compression shearing cutters made of carbide. This means their blades are a combination of upcut and downcut, leading chips to the middle of the board and leaving a remarkably smooth finish on the top or bottom of the stock.
The cutters' balance is excellent—extremely important with the bigger bits here. The 3/4-in.-dia. bits, like the others, performed incredibly well in tough grain situations but with the added benefit of getting into tight radii. Be aware that the largest bit (11/2 in. dia. with a 2-in. cutting length) must be run in a heavy-duty router table or a shaper with a router bit adapter.
The double-bearing design offers lots of versatility for pattern shaping, especially when dealing with changing grain orientation, since you can use a template on either the top or bottom of your workpiece for best results.
Now when younger makers come into my shop and ask, "Where can I get a bit like that?" I'll tell them they can simply order one.
—Tim Rousseau is an instructor at the Center for Furniture Craftsmanship in Maine.
From Fine Woodworking #274