SketchUp: Reproducing a Reeded Bedpost
The ever prolific Tim Killen demonstrates how to create a 10-sided reeded leg SketchUp model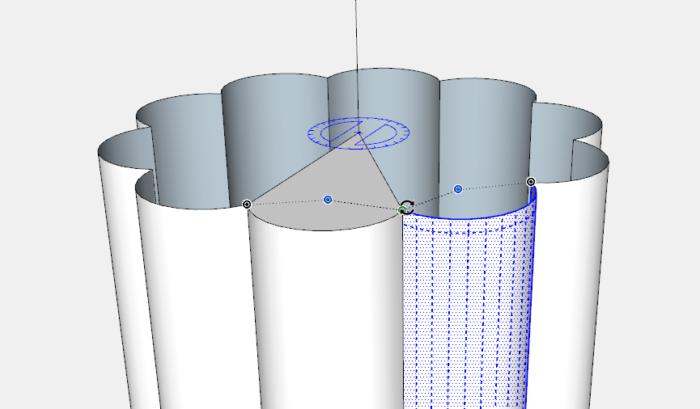 I've been building a Sheraton 4-Poster Field Bed, with canopy and beautifully decorated turned posts. These posts have a reeded section of the bulbous turning as shown in the SketchUp model shown below. Only the Foot Posts have the reeds – the Head Posts are normally less decorated on these styles.
Each Post is turned in two separate pieces that are joined with a dowel connector. Only the two Posts at the foot of the bed have the reeded section as shown below.
I used the following method for creating the reed decoration on the Foot Post. I'll show the steps here, but I've also attached a 6 minute video of this process.
Step 1 – Create the profile of the bulbous section of the turning
Step 2 – With Rotate Tool, copy the profile at 36 degrees to create the boundary of one Reed
Step 3 – Copy the curved outer edges  1/8-in. toward the center. Then use the Arc Tool to create the Reed profile with 1/8-in. bulge. Also create the Reed profile at the bottom.
Step 4- Pick the Plug-in Fredo Curviloft – Skin Contours and select the boundary edges of the Reed, validate, then finish.
Step 5 – Copy the face of the single reed using the Rotate Tool. Then type X9 to complete the array of 10 reeds.
Here is the final result after completing the array.
Step 6 – Replace the smooth turned section of the Foot Post with this section of 10 Reeds.
Here is the final construction still in the shop……
Tim
https://www.youtube.com/c/killenwood