Finish greenwood spoons like a pro
Be free from the grasp of the grit.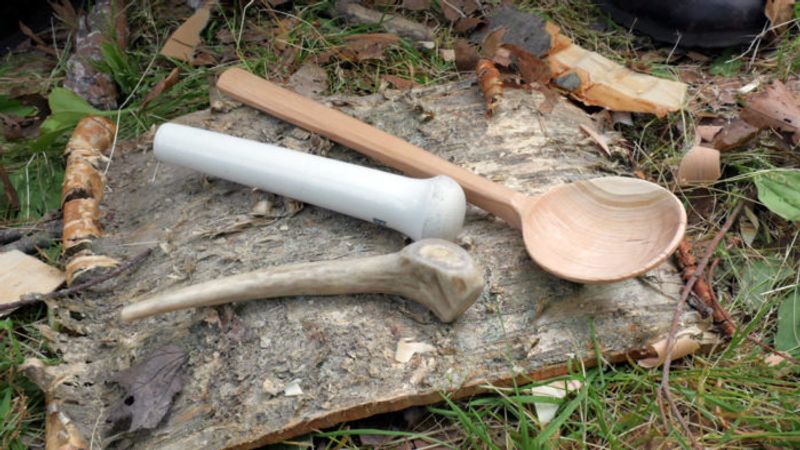 I've never been able to call a spoon finished without sanding, especially the bowl of the spoon. It may be silly (no, it is silly) but not using sandpaper can be a source of pride for woodworkers of all stripes, spoon carvers included. In my flat work, I don't let this trivial nuance get to me: I'm a sander. In my spoon carving, I desperately wanted to be free from the grasp of the grit. Pride was a contributing factor, but mostly my disdain for sanding spoons was rooted in the fact that there are few woodworking tasks more arduous than sanding a spoon bowl. Thankfully, my eyes were opened last summer at Greenwood Fest in Plymouth, Mass.
Amidst the constant crowd of people quietly carving and chatting, I saw a few people with a piece of antler sitting alongside their carving knives. Eventually I asked Emmet Van Driesche what was up with the antler. After Emmet demonstrated how he burnishes his spoons I knew I had to get it on video. The other night I stole the relatively unused pestle from our kitchen (it had seemed like something we needed at the time), and burnished a spoon I was working on. The clouds parted and angels sang. I was in burnished spoon nirvana. I only regret not trying it sooner. Thank you, Emmet!
-Ben Strano
Check out Emmet's website where you can purchase his incredible spoons and spoon blanks
Spoonesaurus Magazine is a real, physical, printed magazine that celebrates and promotes the craft of carving spoons
More Green Woodworking on FineWoodworking.com: