Determining Sight Lines in SketchUp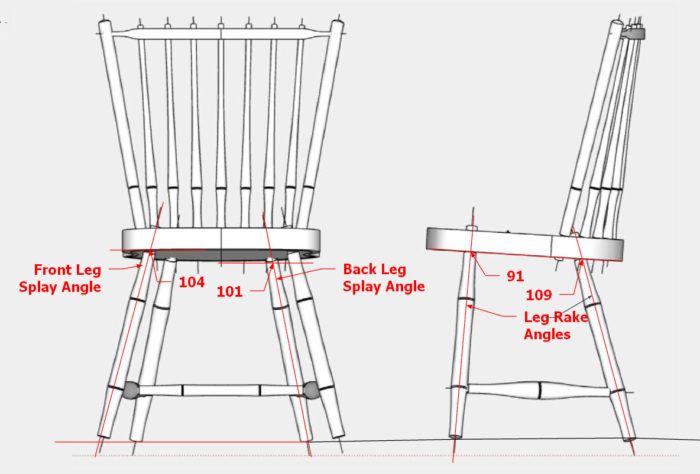 For a new project in the shop, I picked a Windsor Chair and a style I had not done before. Of course, this required SketchUp modeling based on a Rod-Back Side Chair found in John Kassay's "The Book of American Windsor Furniture". This style is a late version of Windsor's, around 1800. Years ago I made two Double Rod-Backs that have served well as grandchildren desk chairs. This single Rod-Back is simpler having only one lateral crest rail connected between the side Stiles. All the turnings are bamboo style. Here is the completed model.
I like to have Sighting Lines on the Seat (visible in the above picture) for creating the compound angle borings in the Seat for the Legs and Stiles. In his drawings, Kassay does not show Sighting Lines, rather provides Leg and Stile angles in both front and side orthogonal views. These are the splay and rake angles typically provided for Legs and Stiles in Windsor or other furniture drawings. My drawing below shows these angles specified in Kassay's drawing. Note the angles are referenced to the Seat, which is also at an angle.
How do you convert these angle values to a single compound angle and on what plane would I direct the drilling? This can all be determined with trigonometry and mathematics, but SketchUp can easily provide the single angle and plane of drilling, and I show this process in the attached video.
In the following photo, I'm showing the drilling of the Back Leg along the Sighting Line and at one compound angle. The Sighting Lines are drawn on the top face of the seat, but are barely visible in this picture.
Here's the chair (ash turnings and sugar pine seat) in the shop under construction.
Tim
https://www.youtube.com/c/killenwood