At Home in the Shop
Built for living as well as working, a woodshop in Maine evolves with its maker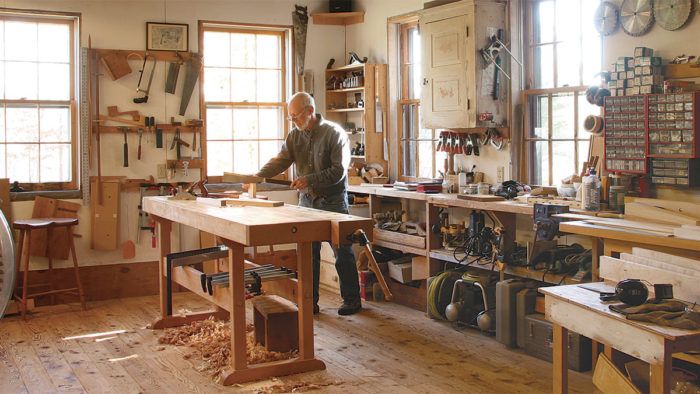 Synopsis: Some 32 years ago, Charles Durfee built a home that truly housed his whole life, with a shop for his furniture-making business downstairs, and living space for him and his wife upstairs. With its pitched, gabled roof, divided-light windows, and shingled walls, it was—and is—a homey place. But Durfee's expanding family soon outgrew the upstairs living space, and he eventually built a new home just up the hill. Now his shop his still homey, but there's a showroom upstairs. It is, as he describes it, a "plain, simple, practical, efficient, and straightforward" workspace. And it's still just a short walk from home.
Yes, it looks like a house! That's for several reasons, but primarily because it was one. When I built it 32 years ago, my shop served as an all-in-one building for my life: woodworking on the first floor, storage in the attached shed, and living space upstairs for me and my girlfriend (long since my wife), Jennifer. Another reason was aesthetics. I wanted something that would be pleasing to my Yankee eye, and that fit into the New England landscape. That called for a pitched, gabled roof and wood-shingled walls, dormers, divided-light windows, and classic red-painted trim. It all added up to a sensibility that felt at home here in Maine.
Looking out, I would see fields and trees, changing with the season.
I made some modifications to accommodate specific needs. The first-floor ceiling is 9 ft. high, way higher than pre-19th-century country dwellings but great for a woodshop. And the roof has a steep pitch, which provided extra living space upstairs. It always looked too tall to me, but with years passed, the surrounding trees have grown enough to soften that.
Aesthetics counted in the location, as well. We built on a five-acre lot on a dead-end country lane, so my noise and racket wouldn't bother the neighbors. From the inside looking out, I would see fields and trees, changing with the seasons, which is refreshing and recharging as well.
My shop isn't really "done up" as some are (although I do admire and have learned from some that are). Mine is plain, simple, practical, efficient, and straightforward. I've had regrets about some decisions I made, some possibilities not realized, but I am generally at peace with what I have.
When our daughter was 3, and a son was about to be born, we realized we had outgrown the upstairs thing. It was rustic (rudimentary plumbing, cramped space, reliant on an outhouse), and after six years we built a "grown-up" house a few hundred feet up the hill behind the shop.
From Fine Woodworking #272
For the full article, download the PDF below:
View PDF