From The Bench: Portrait of a woodworker
If you build things in wood, I know who you are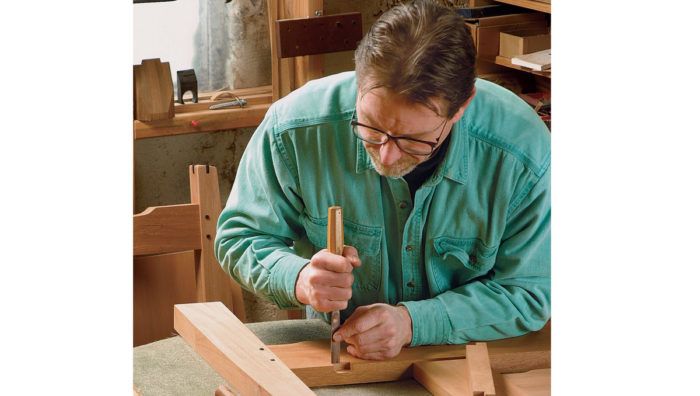 If you build things in wood, I know who you are.
First, you love tools. Your hands are drawn to them. You feel magic in their grip, a power that hints at their potential, their capability, their promise. They are old and atavistic, something real with smells from decades ago, these tools that you love.
You adore wood. It's hard not to, because it's so gorgeous and warm and malleable. It feels good in your hand. You can bend it, lay down beautiful, thin veneers of it, or shape it to a sensual form that is inviting and warm. It wears and weathers over time, becoming even more lovely as it is used. It is as essential to your being as the other elements.
You are a problem-solver. You like to figure things out for yourself, find your own solutions. It makes you feel good to come up with your own way of doing things, your own path to the conclusion.
You need to know where everything is in your world. Where is my hammer, my piece of wood, those screws I bought? You need a sense of control in a world that's gone mad. So you create for yourself a shop space to work in, a bench to work on, an atmosphere that makes you feel good when you walk into it. A place where you know, roughly, where everything is.
You love getting to wear many hats—the sheer number and complexity of the tasks required to build a piece of furniture, from designer to lumber buyer to millwright to joiner to assembler to finisher. For each skill there is so much to know, to assimilate, to master.
And finally, you need to talk to yourself. The importance of this cannot be overlooked. You need to be alone so you can converse with yourself throughout the day. It may seem maniacal to others who see you chatting to yourself at the bench,
but it's crucial to your mental health. This is your
time spent conversing with your own history or working out the day's issues, coming up with new designs or plans as you work on a project, working out a new way of being in this world. It might be
the best talk of the day, one where the call and response are logical, not insane like the world trying to blow itself up.
There you have it: the portrait of a woodworker. Lover of inanimate objects, puzzler, control-obsessed. Very close to the image of a person you wouldn't sit next to on the bus—but let that go. Because a woodworker is also a stalwart, someone who can be depended upon to build you something beautiful.
Eventually. Patience is an important quality to have with one.
Gary Rogowski, director of the Northwest Woodworking Studio in Portland, Ore., is the author of Handmade: Creative focus in the age of distraction (Linden, 2017), from which this essay was adapted.
More on FineWoodworking.com: