From the Bench: Our house of stories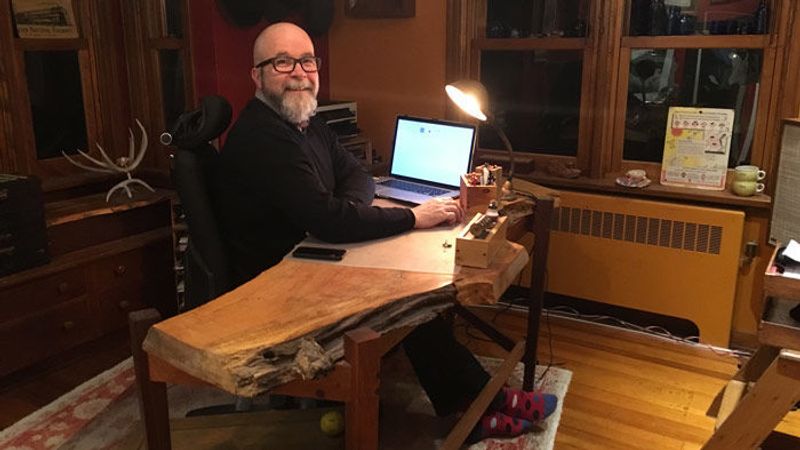 My name is Megan, and I am 11 years old. People love our house and say it is unique, warm, and inviting. It definitely isn't your run-of-the-mill house. Dad has made most of the interesting things in it.
He made the dining room table with beams from a warehouse that was being demolished. He finished it on Christmas Eve one year, hours before we were hosting 27 people for dinner. It took five men to carry in just the top. Mom says she wasn't sure we were going to have a table for dinner. I don't think Dad really was sure either.
There is a bit of a "wood and wrought iron" theme to a lot of Dad's furniture. And he likes to highlight the imperfections in the wood, not hide them. So although the top of the dining table is 5 in. thick, there is actually a spot where my brother used to be able to push his peas right through and get them to drop on the floor. Dad's reputation is that anything he builds will last forever, and weigh more than you care to lift.
Dad loves your magazine. That is where I got the idea to contact you about some of the things that my dad has built. I think a good title for my email would be Our House of Stories. Because that is why people find our house so warm and inviting—just about every item has a story behind it. Maybe that is what spending hours in the workshop designing the next piece of furniture does—allows Dad the time and space to work out special symbolism for each item, and make it "fit." That is the beauty of having a shop in the backyard.
The chandelier in the dining room is another one of people's favorites. Dad got the inspiration for it from the skyscrapers in Toronto, when his plane was landing on a rainy night. The boxes are built of wood, with rice paper as a lining. He then added glass rods shaped like water drops, which reflect the light and add color (and represent the rain).
The picture frames in the hallway were made from old windows from Mom's farm in Southern Alberta (last time anyone lived on the land was in 1960, and the buildings were abandoned or used for storage after that, until each one was, in turn, "decommissioned" because it was in danger of falling over). On a family vacation to see the farm, Dad ripped the windows out of the dilapidated buildings. He spent hours stripping them down (much more time than it would have taken to buy new wood) and making frames for my Mom and her two sisters, so they could have mirrors and picture frames from the family farm.
Dad framed a picture of Mom's Mom (Gramma) from when she lived on the farm, smiling and holding a cat. And he framed a picture of Grampa learning to harvest, when he first took over the farm in the 1950s. Dad searched the photo archives from Southern Alberta and got two pictures of when Foremost, Alberta, was just being settled. Only the hotel and train station existed. He framed these pictures with wood from the rest of the windows and hung them down the hall from the ones of Grampa and Gramma on the farm.
There are also curio cabinets, a mantel on the fireplace, shelves for the TV, the sideboard in the dining room, a shelf made from wood and steel that runs the length of the dining room, and a playhouse outside that was built to code (the only structure on our property that Dad says is actually built to code, as the house is almost 100 years old). Plus more than I can really write about here. All of it is made by my dad, who spends his time in antique shops when he is not designing and making furniture or doing his job as an environmental engineer.
The tree that Dad made his office desk from was from … I can't remember where it was from. He could tell you. But it was the perfect shape to form around him as he works. I sent a picture for you to see.
Megan Clarke lives in Port Moody, B.C.,Canada, and often works wood with her dad and brother Keigan in the shop behind their house.
More on FineWoodworking.com: