Cordless trim router by Ridgid
Trusty trim router cuts the cord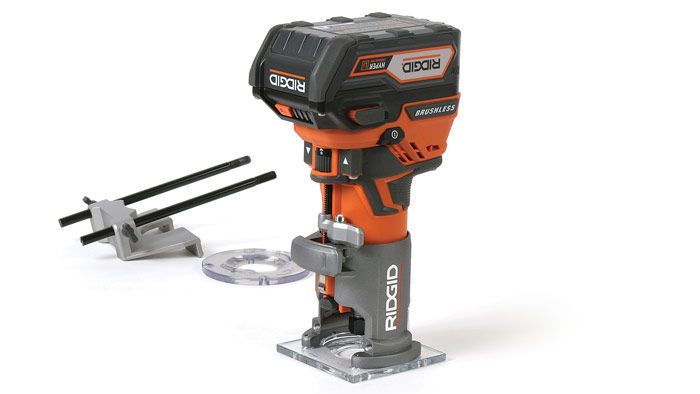 The small size of trim routers makes them perfect for all sorts of furniture work, like making a light roundover or chamfer along an edge, mortising hinges, and excavating surfaces for delicate inlays. Ridgid's new cordless trim router has all the good features of the corded version: an incredibly precise depth adjustment, a built-in LED headlight, and an open base—I was even able to interchange bases. It makes getting accurate cuts a breeze, all without the plug to trip over.
The cordless version's power and run time were more than adequate. I trimmed a 3⁄4-in.-thick by 6-in.-wide by 32-in.-long piece of cherry flush to a straightedge over and over, cutting 1⁄16 in. at a time. It took an hour and 10 minutes before the battery gave out.
While the added weight of the battery is considerable, after 20 minutes I got used to it and ultimately found it well-balanced. The model I tested had the heavier 5-amp/hr (Ah) battery; the 2-Ah model, Ridgid tells me, is much lighter. A battery and charger are not included. You'll need to spend $99 for the 2-Ah battery and charger or $119 for the 5-Ah battery and charger.
I did find it a little harder than usual to dial in an exact fence setting with this router. To set a fence I typically spin the bit until it just touches my layout line, but this router's brushless motor doesn't let you rotate the bit freely with the power off. Also, as with all trim routers, the included base is far too small, which risks tipping. This is easily overcome with a larger shopmade Lexan or Plexiglass subbase.
More on FineWoodworking.com: