Using SketchUp to Turn a Tapered Sheraton Leg
John and Thomas Seymour could have never dreamed that Tim Killen would turn one of their legs in SketchUp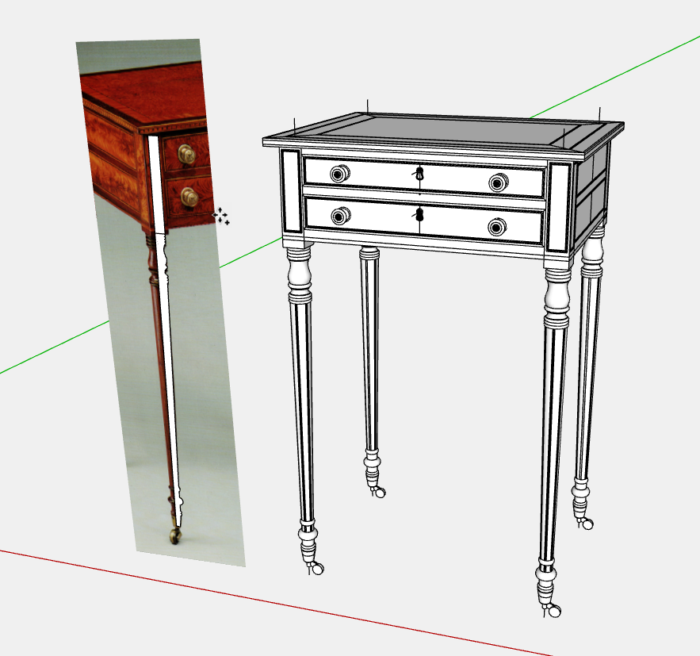 Late last year, I built one of these Sheraton Work Tables. The original was made circa 1800 by John and Thomas Seymour in Boston. I found a picture in one of my books "The Furniture Masterworks of John & Thomas Seymour" by Robert D. Mussey Jr. The table is typically Sheraton style with its slender turned and tapered legs. However, this piece was decorated in an unusual way, by embedding banding in vertical slots down the tapered section of the leg.
This unique design feature was also an interesting challenge in SketchUp. In my customary way, I imported the picture into SketchUp and made it full size based on overall dimensions specified in the reference book. I then was able to make a tracing over the leg using the Line and Arc Tools. See below the white tracing over the imported picture.
Note: I've included a video showing the procedure in making the Leg in SketchUp.
I then scaled-up the tracing by a factor of 10 to avoid having gaps and holes in the "turning" after executing the Follow-me.
After "turning" the Leg using Follow me, I started the procedure to create the six shallow grooves in which the banding is embedded. After displaying hidden lines, I placed Guidelines 1/16-in. to the right and left of the centermost hidden line facing the front of the Leg. It's easy to misplace the guidelines in these cases. I need the guidelines to be on the existing face, not on the red axis or any other direction. The small purple diamond indicates the guideline is on the face.
By tracing over the boundary (the new guidelines) of the groove with the Line Tool, I was then able to use the Push/Pull tool to create a 1/16-in. deep groove.
While in the Top View and Parallel Projection, I used the Copy Rotate Tool to copy the groove in all six places around the Leg.
Here is a view of the embedded banding in the groove.
Tim
@KillenWOOD