Stylish serving trays
Strong, light, and graceful, they deliver breakfast beautifully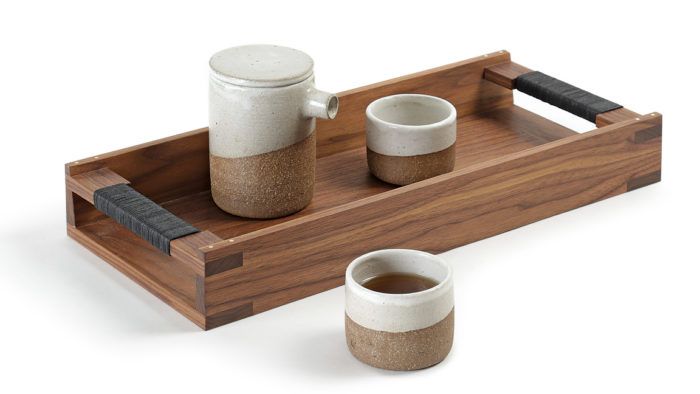 Synopsis: With their breadboard ends, exposed joinery, tapered parts, pinned joints, and decorative cord handles, these serving trays pack a lot of techniques into a small package. They are perfect as gifts or as a decorative and functional addition to your home. The frame-and-panel construction makes them sturdy and unaffected by wood movement. Heide Martin shows you how to make them, from first cuts to final lashing of the cord.
---
As is often the case with clean, simple designs, there is more to this set of serving trays than meets the eye. Relying on solid-wood construction, these trays pack a surprising number of techniques into a small package: breadboard construction, exposed joinery, tapered stock, pinned joints, and cord lashing. I designed the trays with batch production in mind, and arranged things so that although the two trays nest inside each other, once the components are cut to length and width, the joinery for both sizes can be cut with the same machine settings.
Trays make excellent gifts and have the potential to be used daily. In my home, the small tray gets constant use carrying condiments to the dinner table or placed on the sofa as an extension of the end table. The large tray is handy for carrying a meal to the dining table, or as a document organizer in the home office. Both are handsome enough that we do not stash them away: We leave them on the table during meals, and then store them vertically on the kitchen counter. In this article I'll lay out the steps needed to create a single tray, and you can use the provided dimensions to build either size, or a full set.
Prepping and cutting joinery for handles and breadboards
I begin the tray by milling the handles and breadboard ends. I leave all these parts about 1⁄16 in. over final width and length—I'll trim them flush after glue-up. Then I cut the lap and bridle joints in the sides that receive the handles and ends. I cut them at the tablesaw with a 7⁄16-in.-thick dado stack and a tenoning jig with a tall fence. I use a sacrificial backer behind the workpiece to avoid blowout.
You can use the same dado set with a crosscut sled to cut notches in the handles where the cord will be. On the outside of the handle, cut the notches just deep enough that the wrapped cord will be slightly proud of the rest of the handle.
More on FineWoodworking.com:
For the full article, download the PDF below.
View PDF