Tool Review: Universal Dust-Free Router Hood by Oneida
Router Hood has you Covered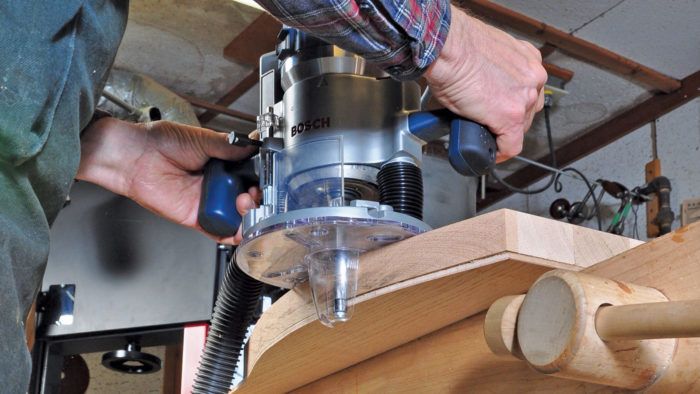 There are few tools messier than a handheld router, especially when pattern-routing thick material with spiral bits. Oneida's new router base cleans up the mess, and it won a Visionary New Product Award from AWFS.
The base, which fits most common routers, comes with two interchangeable, open-sided hoods. One is 2-1⁄4 in. tall, accommodating 2 in. of bit extension, and the other is 5⁄8 in. tall, which allows bench clearance when routing the edge of a 3⁄4-in. board. The pieces simply snap into place with a squeeze of the hood sides. The hose connection is another two-piece affair that swivels around the top of the base as far as the router support rods allow. These pieces also snap together, making it easy to clear big chips if they get caught. While putting the tool through its paces, I had a few shavings escape through the top of the base, but nothing escaped below the hood. Impressive.
The maximum bit diameter you can use is 2-1⁄8 in., or 1-1⁄4 in. when you are plunge routing.
The Universal Dust-Free Router Hood fits standard 1-1/2-in.-dia. hoses, as well as Festool's 36-mm-dia. hoses. Oneida also sells a 6-ft. accessory hose that fits both the Router Hood and a standard 2-1/4-in.-dia. dust port.
—Roland Johnson